I have a youtube channel with over 700 Videos!


Hi, Thanks for visiting my website. My name is Will and if you have questions
or would like to
contribute projects or ideas you can contact me

Make an Adventure Time Tatebanko
This project is quick, easy, and very cute. As a part of the team on Stormthecastle.com, I leapt at the opportunity to use some Adventure Time themed stuff for a project, and what better than an adorable paper diorama?

If you're not familiar with tatebanko, we have a page or two on what they are, where they originated from, and all the different styles they come in. They are traditionally a beautiful Japanese art form, usually depicting serene scene of nature or water. They also commonly mimic Japanese-style block prints from the Edo period (17th century). Last month we did a tutorial on a Halloween themed tatebanko box which was also a lot of fun you can check that out here.
Here's what you'll need:
Standard 8 ½ by 11" acid-free cardstock in white
A green colored pencil
A glue stick
An x-acto knife or hobby knife
The empty tatebanko box and Adventure Time templates (pdf here)
First, print out the template for this project here.
Now, cut out all the pieces of you tatebanko. Remember to cut out the bottom flap on the images as this will be where you glue your pieces to the base of the tatebanko.
Next, take the piece that will be the floor of your tatebanko and glue the pieces you just cut out at the flap. It is good at this point to color the flaps green so that they blend better with the floor of this diorama.
Take the background that you printed out and glue it to the back panel of your tatebanko.
Now you can fold your tatebanko. If you do not know how you can find directions on how to do this in the pdf that contains the template you downloaded earlier.
Take the floor of the tatebanko and glue it to your base to finish the project. Now you're done and have a cute decorative adventure time themed tatebanko. Remember if you find anything else you feel should be part of your project don't hesitate to add it. Remember be creative!
---
Our Tatebanko Project on Amazon.com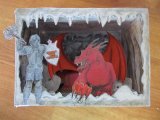 Available on Amazon.com here: Tatebanko Paper Diorama - Dragon's Lair
Tatebanko, or paper dioramas, often depict traditional scenic perspectives but can be used to create almost any amazing diorama. Uniquely combining two-dimensional materials to create and three-dimensional space, this ancient Japanese art and hobby originated in the Edo period (17th century) and remained popular into the 20th century before it was nearly forgotten. StormTheCastle.com has revived this wonderful pastime for your enjoyment! Enclosed in this package you will find everything you need to create your very own tatebanko box! This Tatebanko project is easy to make and looks spectacular. Picture a red dragon sleeping upon his treasure trove in its dark, deep lair with the remains of adventurers past scattered about the cave. Suddenly, it smells something... delicious-it smells a knight-our knight, bravely entering the lair where the awakened dragon is biding his time, waiting in the dark for a hero to emerge and rise to the challenge!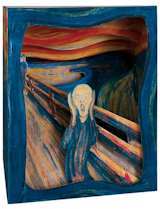 Edvard Munch the Scream DIY 3D Paper Craft Kit (Tatebanko Japanese Paper Art Diorama)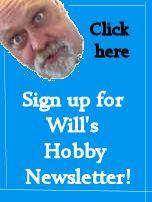 Do you like making projects and exploring a variety of hobbies?
Sign up for my free newsletter. I give you regular updates on hobbies and projects you can make. it is totally free and I don't share your email with anybody.