How to Make a Halloween Tatebanko
This is a fun little tatebanko project that is complete. You can download the packet, print it up and put it together. This is a haunted house tatebanko, which makes for a great Halloween project.

You can download the pdf of this project right here

If you want more tatebanko projects I have a whole lot of them right here: Tatebanko Projects. And I also have the empty box project so you can make the box and put your own scene in it.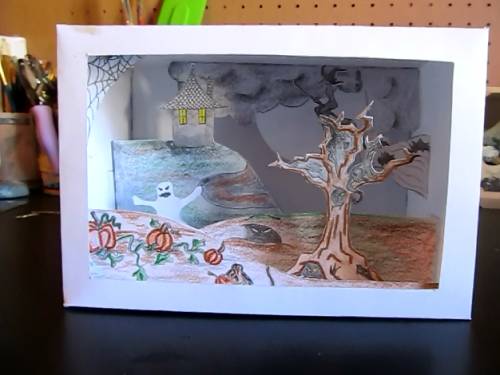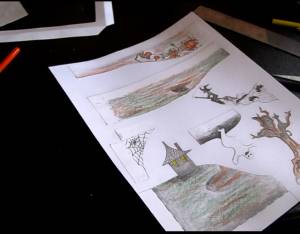 All you'll need for this project is scissors, glue, and paper (preferably card stock so that the pieces are nice and sturdy). First, print our the pdf with the individual pieces that you will be cutting out and gluing. Use the card stock for this.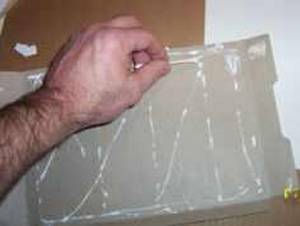 If you don't have card stock you can use regular paper and glue it to pieces from a cereal box.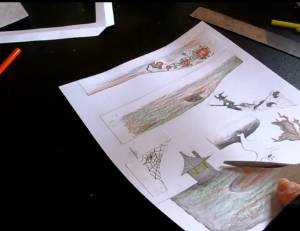 Now, Cut out all the pieces and fold on the lines as needed.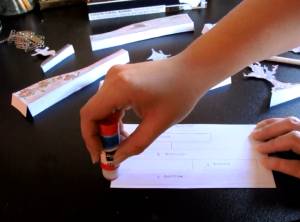 Glue the pop up pieces to the box before you assemble it. If you fold your box first you may have some difficulty gluing the pieces to the inside. All the pieces as well as the box pieces are numbered so all you have to do is glue them in their proper places. Note that some pieces require being glued to two sides of the box. For these you only really need to glue the larger side of the piece to be sure it will stay.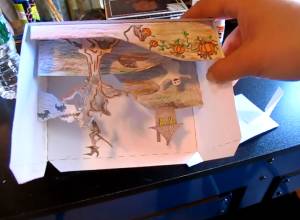 Lastly, assemble the box. If you don't know how to fold the box you can find a tutorial on it here The only difference though is that since there are pieces glued to the top, the tabs on top of the box need to be glued on the outside. You can also decorate the outside of the box with paint, glitter, or anything else you can think of. If you want you can even create some of your own pieces! Once everything is decorated and put together you have a great Halloween tatebanko to add to your Halloween decor!
Our Tatebanko Project on Amazon.com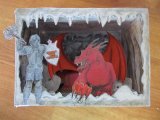 Available on Amazon.com here: Tatebanko Paper Diorama - Dragon's Lair
Tatebanko, or paper dioramas, often depict traditional scenic perspectives but can be used to create almost any amazing diorama. Uniquely combining two-dimensional materials to create and three-dimensional space, this ancient Japanese art and hobby originated in the Edo period (17th century) and remained popular into the 20th century before it was nearly forgotten. StormTheCastle.com has revived this wonderful pastime for your enjoyment! Enclosed in this package you will find everything you need to create your very own tatebanko box! This Tatebanko project is easy to make and looks spectacular. Picture a red dragon sleeping upon his treasure trove in its dark, deep lair with the remains of adventurers past scattered about the cave. Suddenly, it smells something... delicious-it smells a knight-our knight, bravely entering the lair where the awakened dragon is biding his time, waiting in the dark for a hero to emerge and rise to the challenge!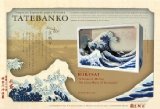 Paper diorama Kit - Tatebanko: Hokusai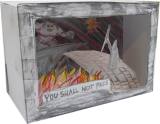 You shall not pass tatebanko, this is with Gandalf and the Balrog on the Bridge. This project also has a bonus little section on the back.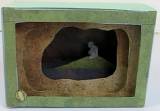 New Tatebanko Project: Gollum in his cave. This is a neat little tatebanko project that shows gollum in his underground lair with the lake. A scene from the fellowship of the ring. It is a complete project. All you do is download the packet and assemble it. Gollum Tatebanko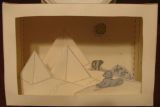 Egyptian Tatebanko: This is a nice tatebanko project in Egypt. It shows the sphinx and the pyramids and it has a little caravan of camels walking across the desert. Egyptian Tatebanko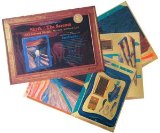 Edvard Munch the Scream DIY 3D Paper Craft Kit (Tatebanko Japanese Paper Art Diorama)
---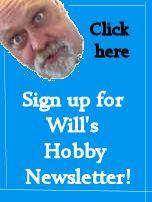 Do you like making projects and exploring a variety of hobbies?
Sign up for my free newsletter. I give you regular updates on hobbies and projects you can make. it is totally free and I don't share your email with anybody.