How to Make a Hexagonal Box Kite
This is a tutorial on how to make a box kite that is hexagonal in shape. It is an interesting kite to make and to fly. And you think that something like this couldn't fly but it does!

There is a video tutorial at the bottom of the page.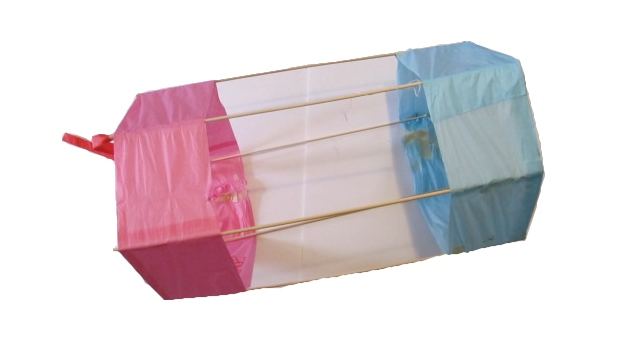 Materials and tools:
six dowels 26 inches long (1/4 inch thick dowels)
six dowels 17.5 inches long (1/4 inch thick dowels)
You can buy these wooden dowels at any home improvement store like Lowes or Home Depot
Tissue paper, This is the exact paper we bought and used: Assorted Rainbow Color Tissue Paper Bonus Pack, 20" x 26", Pack Of 100 Sheets!
Glue stick
Masking tape or cellophane tape
Scissors, Ruler, pencil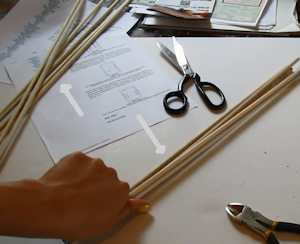 Cut your dowels to length. Cut six dowels to 26 inches in length and cut six dowels to 17 1/2 inches in length.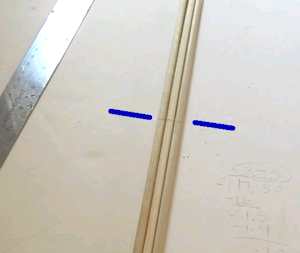 Take your dowels that are 17 1/2 inches long and mark them in the center. Do all six of them.
Take three of those dowels, and using the center marks you made, overlap them and tape them together with masking tape. Form a star like you see here in this picture.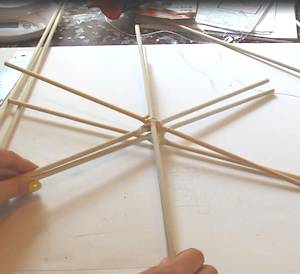 Make a second one just like that first one. And line the two stars up so they are pretty much the same. They should be close to identical in how they form a star.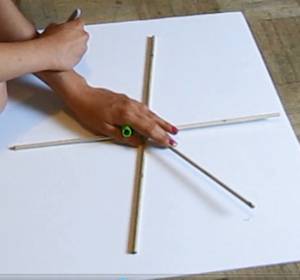 Lay a star out on a big piece of foam board and make a mark at the end of each star point. Do this on two pieces of foamboard. You can also use cardboard.
At those marks you made use a piece of dowel to punch holes. Punch all the holes.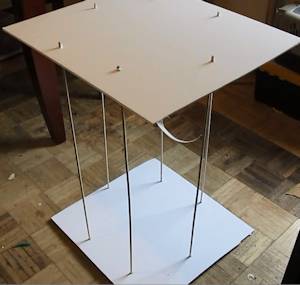 Now take those two pieces of foamboard and insert your long dowels (26 inch) in them to form this shape. This is simply a jig to help you make the kite easily. This jig holds the wooden dowels in place so you can make the kite.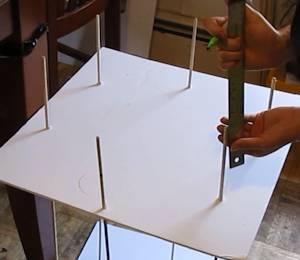 Push those foamboard sheets in toward the middle a bit and mark the end of each dowel at three inches. Do this on this set of six and the set of six on the other end too.

Okay, Let's continue with the making of this kite
Watch the video:
OTHER KITE PROJECTS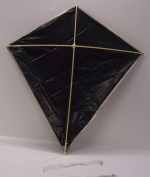 How to Make a Traditonal Kite
This is an easy kite to make. Just two sticks, some plastic and tape and you are ready to fly it - Make a Regular Kite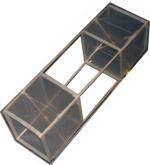 How to Make a Box Kite
A Boxkite is a unique kind of kite that is easy and fun to make and really flies - Even though it doesnt look like it can fly - BoxKite Tutorial
---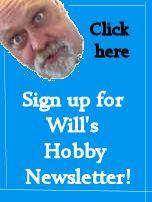 Do you like making projects and exploring a variety of hobbies?
Sign up for my free newsletter. I give you regular updates on hobbies and projects you can make. it is totally free and I don't share your email with anybody.