Fantasy
New Book Reviews:
Ivory Sword: The Lore of DAYONE
This book is currently under review but it has an interesting story. The authors began their journey by creating a game. From there they developed it into a magazine. Eventually this evolved into the book, which is just the first of a series. Read more about this interesting exercise in creativity Ivory Sword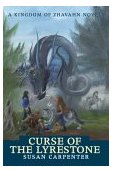 Book Review: Curse of the Lyrestone (iUniverse Publishing)
Review: May 31, 2007
This book breaks the typical fantasy story mold. It is a wonderful read suitable for teens through adults and it is a gem that has come out of the self-publishing arena - having won the iUniverse Editors Choice Award. Looking for something a little different? Read more
This summer the Science Fiction & fantasy Writers of America awarded the 2006 Nebula Awards. Here are the winners:
NEWS
The Nebula Award® Winners for 2006:
Novel: Joe Haldeman for Camouflage
Novella: Kelly Link for "Magic for Beginners"
Novelette: Kelly Link for "The Faery Handbag"
Short Story: Carol Emshwiller for "I Live With You"
Script: Joss Whedon for Serenity
Andre Norton Award:
Holly Black for Valiant: A Modern Tale of Faerie

Learn More about the Nebula Awards at SFWA® website
Looking for a top seller in the realm fantasy? Amazon.com keeps an hourly updated list: Top Sellers in Fantasy (updated hourly)
Weblinks
Want to subscribe to a science fiction and fantasy magazine?
If you want the freshest science fiction you have to subscibe to a magazine. Every month they bring you the best in articles, stories and more. Keep on top of the latest developments in the field. I have a selection of the best science fiction magazines that are available for home delivery. Check out the science fiction magazines.
This link will take you directly to the Amazon.com section of science fiction and fantasy magazines where you can browse through magazines like Dungeon, Science Fiction & Fantasy, Rue Morgue and Starlog.Science Fiction and Fantasy Magazines at Amazon.com
Guide to Shopping for Fantasy Books on Amazon
Browsing Amazon can be fun but it can also be tedious -With Millions of items it can sometimes be difficult to find something if you don't know exactly what it is.
If you want to read a new book in the fantasy genre but haven't decided which book you can spend hours browsing through lists of books. Here are some solid resources to the best in amazon.com
The first thing you should do is check the Blowout Deals. When you have as many books as Amazon has sometimes you just gotta get rid of some of them. And to do this you deeply discount the prices - and I mean deeply discount them. This link takes you directly to the Blowout Book Deal section for Science Fiction and Fantasy Books Blowout Book Deals
If you just feel like browsing
Go Directly to the Fantasy Book Section of Amazon books. This is the official Fantasy Book Section of Amazon.com. From here you can pick from the top sellers or further break it down into categories. If you want to drill down even more specific here are the sub categories you can go directly to:
Alternate History
Anthologies
Arthurian
Contemporary
Epic
General
Historical
History & Criticism
Magic & Wizards
Series

Looking for the best sellers?
A lot of people don't realize that Amazon keeps a best seller list in all the various sub-genres. The great thing about this list is that it is very fresh (updated hourly) So to see what the current Fantasy best sellers are Top Sellers in Fantasy (updated hourly)
Dont underestimate the power of your fellow readers!
One of the best things (actually two things) about Amazon is the user generated guides and user generated listmania lists. These are a great way to see what other people are passionate about in particular niches. For example, if you like a particular author you can find a list that someone has compiled of his/her work or similar work.
Amazon Guides: