Science Kits for Kids
All these science kits are available on amazon.com And, Amazon.com keeps track of the best kits. YOu can check them out right here: The 100 Best science Kits

Insect Lore Live Butterfly Garden
This is a good project for observing the life cycle of a butterfly. For a science project you can take notes about the development of butterflies as they go through their various stages like pupae, caterpillar and butterfly. Good observational project

Note from Will: I also have a neat project where you can make a butterfly box out of a cardboard box and some screen. It's a good way to hold and observe your butterflies and caterpillars. Make a butterfly box
Awards: The National Parenting Center-Seal of Approval, Dr. Toy 100 Best Children's Products, Dr Toy Best Educational Products

Contains more than 30 Snap-Together parts

Build more than 100 exciting projects

Clear and concise illustrated manual included and available online

Exciting projects include burglar alarm, doorbell and more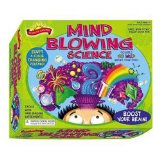 Scientific Explorer's Mind Blowing Science Kit for Young Scientists
Winner of Parents' Choice Approved Award and Dr.Toy One of the 10 Best Educational Products 2005 Award

Contains a variety of experiments and instruction guide with scientific explanation

Spark your child's curiosity in science while they are young!

Learn about colors, learn about volcanoes

A great family kit with experiments that will intrigue several ages
Curiosity Kids Lava Rock Volcano
Build your own volcano, add lava rocks and color, and squeeze it to erupt!
Recommended for Ages 6+
Perfect for science fairs or home crafting projects!
Volcano Making Kit
- Make your own volcano and watch as it erupts with bubbling, fizzing "lava". Kit includes fast drying plaster, volcano mold, paint, paint brush and stir stick. Requires baking soda and vinegar for eruption (not included).

Note from Will: I have lots of volcano making tutorials. You can do it with various materials found around the house like baking soda and vinegar. Check out the projects here: How to make a volcano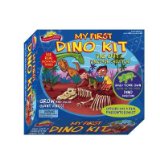 Scientific Explorer's My First Dinosaur Science Kit
A great way to introduce your child to these amazing creatures at an early age

Build a glow in the dark Dino

A great kit for sparking interest in prehistoric times

This kit includes real excavation tools

Explore the world of paleontology at an early age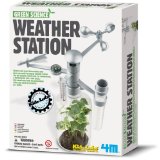 Toysmith 4 M Weather Station Kit #4573
Learn about your climate while tracking weather changes and conducting experiments on the greenhouse effect

Completed station measures 8.5"X4.75"

Includes everything you need and assembly instructions

Also create a terrarium

Create a "Green Science" project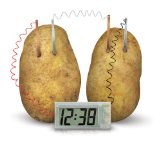 Toysmith 4 M Potato Clock # 4568
7 years & up. The two Potato Clock allows you to generate enough electricity to run a digital clock using potatoes! Just push the zinc and copper electrodes into the potatoes causing an oxidation/reduction reaction that is converted to low voltage.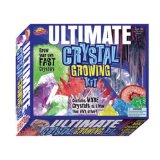 Scientific Explorer's Ultimate Crystal Growing Science Kit
With 15 crystal-growing activities, the Ultimate Crystal Kit has more crystals for you to grow than any other kit. You'll learn all about the various forms crystals take, and then grow every type of crystal imaginable, including giant gems, glowing geodes, and an entire crystal garden.
---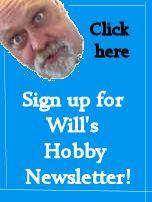 Do you like making projects and exploring a variety of hobbies?
Sign up for my free newsletter. I give you regular updates on hobbies and projects you can make. it is totally free and I don't share your email with anybody.