| | |
| --- | --- |
| | Making miniature trees for a diorama takes a little bit of practice but in no time at all you can get good at it. In this tutorial I show you the traditional way to do it and I also offer you some nice alternatives that you can make using stuff around the house like wire and scouring pads. |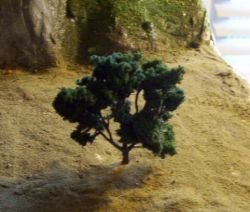 The picture on the left is a good example of a tree made with the traditional woodland scenics materials. If you are looking for these materials they are available at amazon.com and I have a page devoted to them. Woodland Scenics Supplies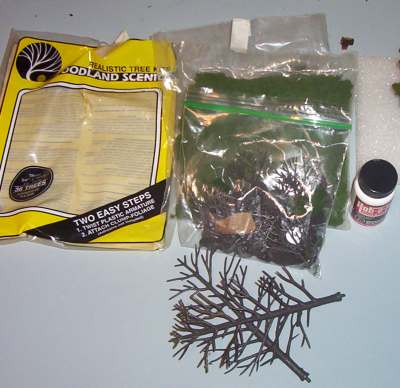 First I will show you how to make trees using the Woodland Scenics Tree Kit. The picture above shows you everything you need. On the left is the woodland scenics tree kit. It contains enough materials to make 36 trees. These kits come in different types and sizes so you can make small or large trees, conifer or deciduous trees. In the middle of the picture is the tree armatures and the bags of tree foliage. On the righ is a bottle of Hob-E-Tac Adhesive
. This or some other type of high tack glue is needed to make trees. It has to be real sticky so the foliage will adhere quickly and not fall off.
---
More Trees at Amazon.com
---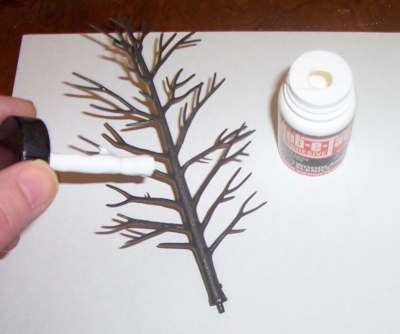 The plastic trees come shipped flat in the bag. Bend the tree into a three dimensional tree like shape then apply a liberal amount of glue to all of the branches. Put lots on!
Next wait the recommended period of time so the glue gets really tacky! This is the biggest roadblock that people run into. If you don't wait for the glue to get tacky the foliage won't stick well. With Hob-e-tac you need to wait 15 minutes.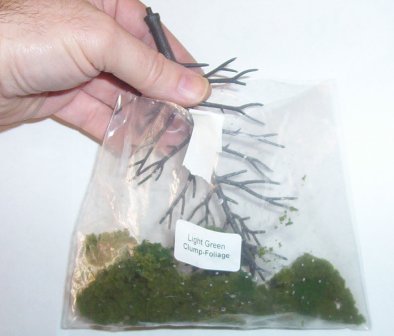 Now Dip the tree in the bag of foliage and move it around so it gets a lot of foliage on it.
I recommend you make your trees using more than one shade of green. They look much more realistic this way.
Once you take the tree out of the bag you can set it aside and let it dry. Once it dries you can touch it up by adding a little more glue and spot placing small bits of foliage. Voila, your tree is done.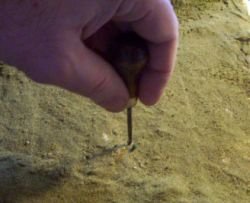 To install a tree in your diorama punch a thin hole in the shell and put a few drops of glue in it. Let the glue set for a few minutes so it gets tacky.
Gently insert the tree into the hole and hold it in place so it will stay. If you need to, put some things around it to support it while it dries. If you made the hole the right size it will be a nice tight fit and will hold itself.
Some Tips and Tricks for Making Miniature Trees with Materials found around the house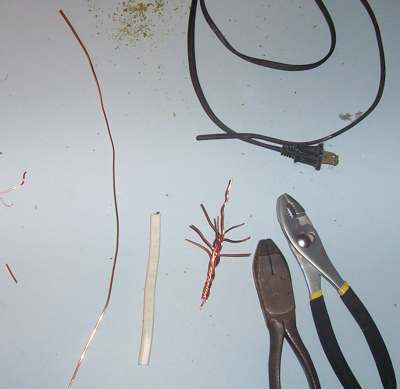 You can use a wide variet of wire from stranded (the cord with plug on it) to house wire(the white wire and the copper wire). Simply cut yourself several pieces a few inches long then using two pair of pliers twist them so they form a trunk at the bottom. A twisted tree is shown in the middle of the picture.
Paint the trunk of the wire tree brown then follow the same process you used for making plastic trees: Coat the branches with hob-e-tac and after it gets real sticky dip it in the bag of foliage. Voila you are done!
You can improvise foliage materials too and I find that different types of kitchen scouring pads will work very well for this. You can tear it into little clumps of material, put it in a bag and use it for tree foliage.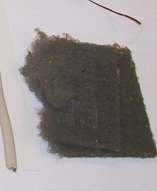 The picture above is an old kitchen scouring pad. You should be able to find one that is green. This one is very old and faded. You can pluck off small tufts of this pad and use it for foliage.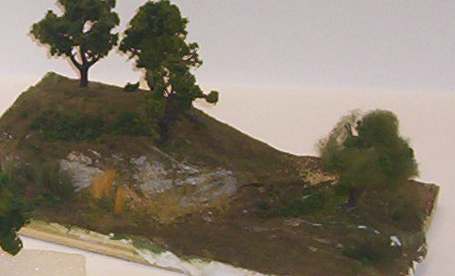 The diorama in the picture above shows trees made from traditional materials on the left and a scouring pad tree on the right. It looks great.
Here is a look at a wire tree I made: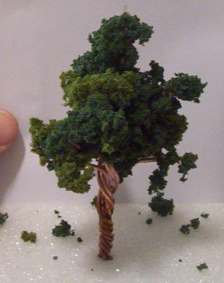 The Video Tutorial on how to make miniature trees
JTT Makes Some Amazingly Beautiful Trees:
Here is a complete listing: JTT Miniature Trees on Amazon.com
They have an amazing variety of types of miniature trees and sizes. Here are just a sample of four of them.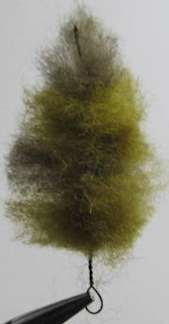 How to make miniature trees with around the house materials
You just need a few supplies and you can make a very realistic looking miniature trees for dioramas, railroads and more. I made a little diorama just to show off the trees! Make Miniature Trees