I have a youtube channel with over 700 Videos!


Hi, Thanks for visiting my website. My name is Will and if you have questions
or would like to
contribute projects or ideas you can contact me

How to make a rainbow colored scratch drawing
This is a fun arts and craft style project that is a great way to spend the afternoon. You get to use crayons, paints and do some scratch drawing. One of the interesting things about this project is that it follows through multiple yet easy stages to completion so kids really like it. First you use crayons, then you do a little painting and finally you scratch a drawing with a pin or a paper clip. The picture below shows the drawing that I made for this tutorial.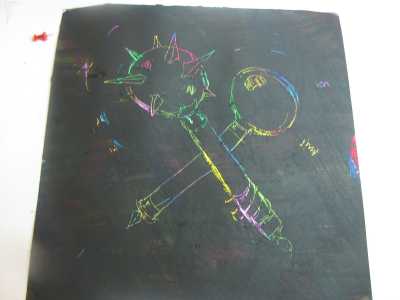 What you will need to do this project:
A sheet of durable paper. Printer paper can be used but is not suggested. You want something thicker to resist the crayon and paint. But if printer paper is all you have then go for it! I used poster board.
Lots of crayons
Some dark watercolor or acrylic paint
A pin or a paper clip
Start out by having fun applying colors to the sheet of paper. Go crazy and put them on really thick. Go over the colors a couple of times to make sure the paper is sealed from the paint you will apply.

Next apply the paint to the paper. Keep it nice and thin. You want it just thick enough to cover up all the colors.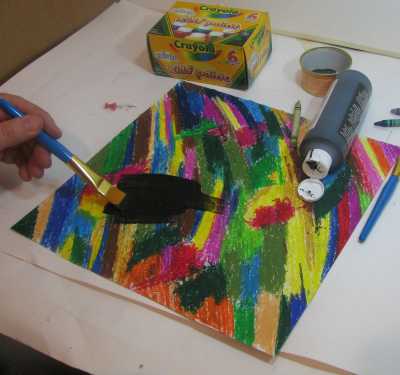 Now let it dry. While it is drying take a break, have a peanut butter and jelly sandwich and discuss the drawing you are going to make!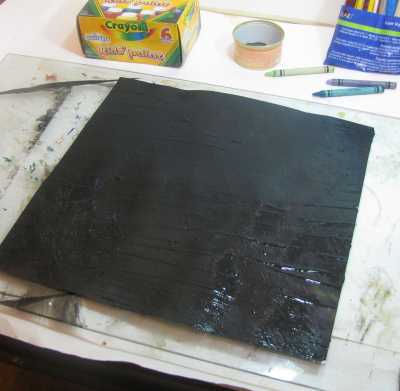 You don't have to let it dry overnight. Once it is reasonably dry you can scratch at it with a pin or paper clip. Use the pin just as if it were a pencil and just draw out what you imagined!!! Here is another look at my drawing.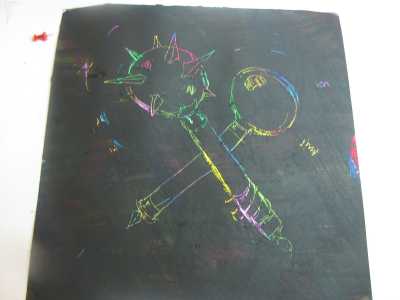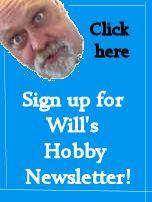 Do you like making projects and exploring a variety of hobbies?
Sign up for my free newsletter. I give you regular updates on hobbies and projects you can make. it is totally free and I don't share your email with anybody.