You want to be an Artist? Or at least you have always had the urge to draw or paint but never seem to have made the time to do it. I have assembled the inspiration, the materials and the ideas here. You can do it! You can start today!
I don't claim to be any kind of an Artist but I do have a passion for it. It has been one of those things that always haunted me. I have recently started to learn how to draw (as an adult) and it is going great for me. There is a level of satisfaction that is hard to describe.
Here is a sample of something I recently drew. Granted I will probably not be the next Picasso, but I will be a better me! And believe me I did not start out drawing like this. It took time and practice -all of which I totally enjoyed.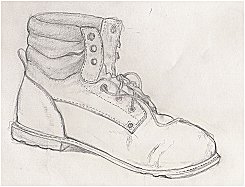 My Fantasy Art School!This is the free school I have created with art lessons that take you from beginner and teach you how to draw using fantasy subjects as an example. Broken down into easy to follow lessons about art and drawing. Fantasy Art School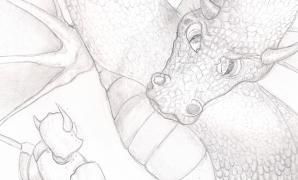 Creativity is so important
If you are looking to inspire and develop your creativity I have a whole section devoted to it. You may also want to check that out. Ignite Your Creativity


Here is a complete kit to get you started

Pencil Drawing: A complete Drawing Kit for Beginners
The Kit includes:
• 32-page project book
• 6 drawing pencils (F, 2H, H, HB, B, 2B)
• Drawing pad
• Pencil extender
• Kneaded eraser
• Sharpener
• Sandpaper pad
• Triangle
• Blending stump
(Comes at an unbeatable price)

Drawing and Art Books (Beginners)

Drawing For Dummies
If you are really starting from the absolute beginning and you describe yourself as a person who can't draw a straight line then this is the right first book for you.I own this book and it is great. Easy to understand and lots of fun exercises and examples.

Drawing for the Absolute and Utter Beginner This book is a real confidence builder. If you want to draw but consider yourself below beginner then check it out.
Drawing and Art Books (Intermediate)

How to Draw Lifelike Portraits from Photographs
I own this book and it really works. You learn good techniques for drawing portraits in pencil. If you always wanted to draw portraits this is the first book you should get. Lee Hammond (author) has a whole series of drawing books. 089134635X

Anatomy for Fantasy Artists: An Illustrator's Guide to Creating Action Figures and Fantastical Forms
I picked this book up in a bookstore and absolutely love it. I refer to it all the time. It has lots of drawings in different medium and it has photographs of male and female models in various action fantasy poses.
Materials and Supplies
Sketchers Wood Box with sketch pad, ruler, pencils, eraser, sharpener & blender
This is a terrific complete kit (perfect for beginners) and you are not going to believe the price. Try buying these materials in an art store.
Complete Art Portfolio Set
This is perfect for a young artist or for an adult just starting out in art.
Sanford(R) Prismacolor(R) Professional, Thick Lead, Art Pencils, Assorted Colors, Set of 24
What a difference a quality set of pencils will make in your drawing.