Paper Mache Projects
| | |
| --- | --- |
| | Here is a collection of Paper Mache Projects that I have here on my website. The projects will include, when needed, any downloadable templates and sheets that you need. If you are looking for an easy paper mache recipe I have one here including a video that shows you how to make it. Fast Easy Paper Mache Recipe |
Paper Mache Supplies - Paper Mache Animals - Paper Mache Masks - Paper Mache Recipes and techniques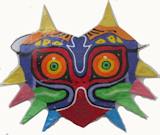 Make Majora's Mask from Legend of Zelda
Fun mask project from the video game. Unique mask, wonderfully colorful and easy to make with paper mache. Of course I give you the template! Make Majora's Mask
Make Soul Edge from Soul Calibur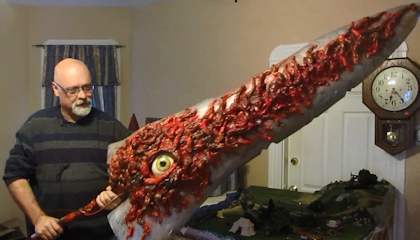 This is a pretty crazy sword in the video game. And it is even crazier in real life. And the eyeball really looks around! LOL. See how to make this project with some basic materials. Make Soul Edge
How to make a paper mache dragon egg - and how to fry it up!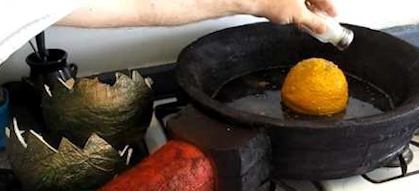 Ok, this tutorial is really about making a paper mache dragon egg. You can see it cracked open on the left of the picture. But I also make the yolk, the white, and the frying pan! LOL I had a lot of fun with this project. Check out how to make this project and watch the video of me frying up the dragon egg. Make a dragon egg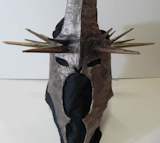 Make the Witch King Helmet
This is an easy paper mache or plaster cloth project. And I give you the template. Now you can be the witch king. If being the bad guy is what you want! Make the Witch King Helmet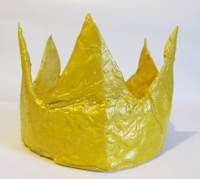 Make a Paper Mache Crown
This is a wonderful paper mache project where you make an iconic crown inspired by childrens favorites like The Little Prince and Where the Wild Things Are. How to Make a Golden Crown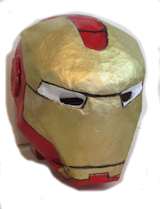 Make the Iron Man Helmet
This is a nice paper mache project that comes out great. Not a lot of supplies are needed and I have the template you can download and print out. Make the Iron Man Helmet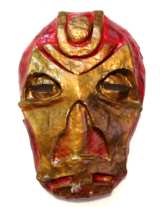 Make a Dragon Priest Mask from Skyrim
This is an easy paper mache project and I have a template that you can download and print out. You can use this technique to make all kinds of fun masks. Make the Dragon Priest Mask Volsung from Skyrim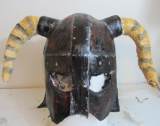 Make the Skyrim Iron Helmet
Nice tutorial on how to make the Iron helmet out of cereal box cardboard and paper mache. Good looking helmet and strong. How to make the Skyrim Iron Helmet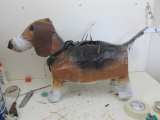 Make a Paper Mache Animal Pinata
This is a neat tutorial where I show you how to make just about any kind of animal pinata. I also take this to a new level and make the pinata so it talks when it gets hit! That's an optional thing and you can see the tutorial here: How to make an animal pinata out of paper mache
Make a Magneto Helmet out of paper mache
Fun and easy paper mache project. I have the packet you can download, print and make. How to make a Magneto Helmet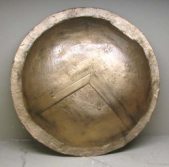 Make a Spartan Shield
This is a great looking shield that is creative and easy to make. It looks just like the shields in the movie 300. Complete tutorial with video. How to make a Spartan Shield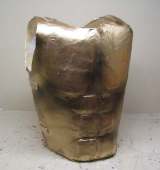 Make a Spartan Chestplate
This is a complete tutorial that shows you how to make a cardboard and paper mache spartan chestpiece. it comes out great looking and is not too hard to do. Make a spartan chestpiece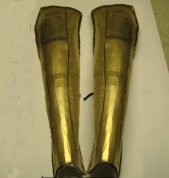 Make 300 Spartan Greaves(leg-guards)
A tutorial on how to make paper mache and cardboard greaves that fit well and look good. Just like the ones in the movie 300. Make 300 Spartan Greaves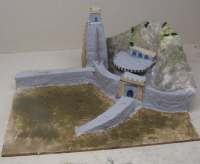 How to make a paper mache diorama

Don't have the materials for a diorama? You can make one out of paper mache which is just flour and water. I show you how in this tutorial where I make a scene from the Lord of the Rings Castle Helms Deep. How to make a paper mache diorama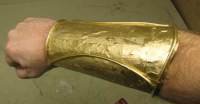 Make 300 Spartan Vambraces (armguards)
A tutorial on how to make paper mache and cardboard vambraces that fit well and look good. Just like the ones in the movie 300. Make 300 Spartan Vambraces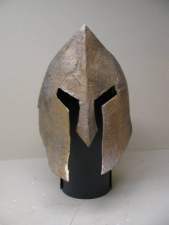 Make a Spartan Helmet

Make this helmet out of paper mache and cardboard. Complete instructions and video, along with a download of the template The Spartan Helmet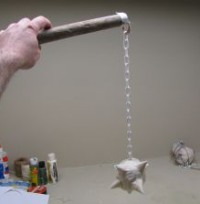 Make a Medieval Flail (Ornamental)

With just a few basic materials you can make a great looking medieval flail for a costume or halloween. Make a Medieval Flail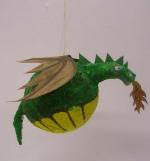 How to Make a Dragon Pinata
All it takes is a balloon, some paper mache and a little creativity and you have a great themed pinata. Add a sword and your party is transformed! How to Make a Dragon Pinata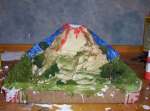 How to Make a paper macheVolcano
This is a nice little project that has some improvements over the typical volcano. It is less mess and easy to clean. The bottle in the middle comes right out so you can clean it and do it again. It is also in a nice little box so the magma stays controlled - Less Mess How to Make a Volcano - New: The Mentos and Diet Coke Volcano - Fires a stream high into the air!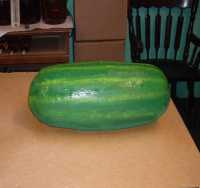 How to Make a solid, heavy, and realistic looking paper mache Watermelon
This is basically rolled up newspaper that is covered with paper mache and with paint. Add a coat of clear spray and it looks real! Here is the tutorial on how to do it. Make a Paper Mache Watermelon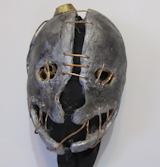 Make Corvo's Mask from the game Dishonored

This a fun and easy paper mache project. You can make Corvo's Mask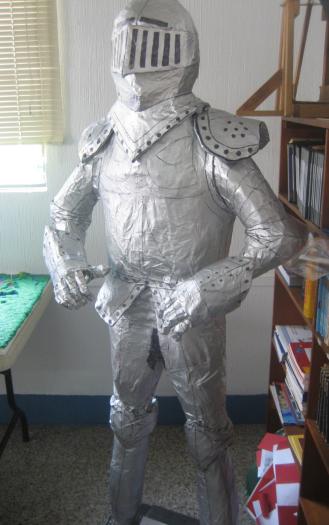 A Full Size Paper Mache Knight - There is no denying that you can make just about anything from Paper Mache. This life size knight is a good example of that!
This project was made by a student of a teacher (Dave O.) My thanks to him for submitting this picture and a very big wow goes out to the student for having the persistence to finish the whole thing!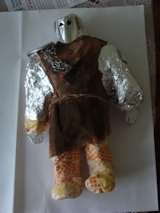 Here is a great paper mache figure made by a web visitor (Gabriele). It shows how you can get really creative with paper mache and make something really terrific: Paper Mache Figure
---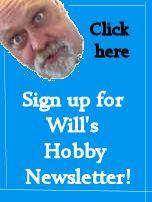 Do you like making projects and exploring a variety of hobbies?
Sign up for my free newsletter. I give you regular updates on hobbies and projects you can make. it is totally free and I don't share your email with anybody.
Some Great Links to Other Sites
Here is a terrific site that has plenty of easy crafts for kids. Make a robot, an indian headdress, and some nice dragon stuff. This site is well worth a look particularly if you are interested in home schooling: Homeschool Activities.com - Easy Crafts for kids
Take a look at this great collection of Homemade Crafts from SavvyHomemade.com They have a wonderful array of projects that you can make.
Here is an awesome website by a Paper Mache Artist - GreatPaperMache.com - Lots of terrific stuff including a paper mache dragon!
Books On Paper Mache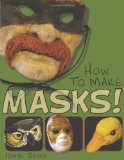 How to Make Masks!: Easy New Way to Make a Mask for Masquerade, Halloween and Dress-Up Fun, With Just Two Layers of Fast-Setting Paper Mache
This book teaches new techniques that anyone can use to create fabulous masks easily and quickly. Make one of the 12 popular mask styles in the book following the detailed instructions and over 300 step-by-step photos - or use these easy new methods to create your own unique designs. Jonni shows you exactly how to sculpt the features of your masks so they truly represent the character and expression you're looking for. Then capture that look permanently with just two layers of super-strong, fast-setting paper mache, using the recipes included in the book. Your finished masks can look like they were made from fur or feathers, antique gold, ancient bone, rusted iron, glazed porcelain, and even carved and highly polished African wood.
Papier-Mache Monsters: Turn Trinkets and Trash into Magnificent Monstrosities
Celebrated monster-making master Dan Reeder is at it again in Papier-Mache Monsters, helping you create cool monsters from just a few simple materials and goof-proof steps for guaranteed success. Plus, there's more-you'll have access to all of Reeder's secrets for creating must-have monster elements, such as jaws, claws, horns, scales, webbing, tentacles, eyeballs, fingers, toes, gnarly hands and feet, and even perfect DROOL! Learn how to make a basic monster and you'll be well on your way to creating more hideous creatures, beasts, dragons, and whatever else your dark side can think of!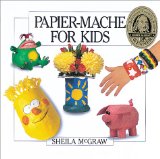 Papier-Mache for Kids
- By experimenting and simplifying, papier mache expert Sheila McGraw has created a how-to book for kids with projects that fit the level of skill, the hand-size, and the attention span of children. Each how-to step is matched with a clear, full-color photograph and concise, simple directions. Clear symbols denote where an adult's help or supervision may be needed. 145 photographs.
Dragon-Maker's Handbook-Full Color Edition
This book details the step by step making of a fantastic papier and cloth mache dragon.
Contemporary Papier Mache: Colorful Sculpture, Jewelry, and Home Accessories
Contemporary Papier Mache is a colorful collection of papier mache projects by artist and teacher Gilat Nadivi. With an emphasis on recycling everyday items to create one-of-a-kind masterpieces, Nadivi instructs readers on how simple materials, basic techniques, and a healthy measure of imagination can be combined to make a range of distinctive creations. Projects described in the book are diverse; they include human figures engaged in everyday activities, animals that are tall, small and in between, home accessories such as picture frames, bowls and magnets, and more.
Recycling is an inherent component of almost all papier mache, and Contemporary Papier Mache really takes this principle to heart. Old wires and hangers act as bases for human figures, empty rolls of tape become fashionable bangles, discarded water bottles are transformed into women's figures. After trying out a few projects in the book, readers will find their eyes open to the artistic potential waiting to be discovered in basements, garages, and recycling boxes.
Tools for these projects are minimal, and supplies are easy to find. As for guidance and inspiration, readers will find plenty of both within the pages of Contemporary Papier Mache¬ . The book begins with a chapter on materials that describes the supplies readers will need for the projects. This includes basic materials such as papers, glues, work surfaces and paints, as well as fabrics and other decorative enhancements. It also includes suggestions about items that can be reused (and revived!) through papier mache. The techniques chapter describes various papier mache methods as well as painting and lacquer application.