I have a youtube channel with over 700 Videos!


Hi, Thanks for visiting my website. My name is Will and if you have questions
or would like to
contribute projects or ideas you can contact me

Paper Mache Masks
| | |
| --- | --- |
| | Here are some supplies including tools, paper mache and books that will get you going in paper mache. |
Masquerade in style with Mardi Gras Masks! The Woman Paper Mache Mask is a great addition to any Mardi Gras party. Let your guests design their own venetian party mask! Full face mask. Made of paper mache. White elastic band for easy wear. One size fits most. 6 1/4" across the face and 8 3/4" tall. Make sure your guests are gold, green, and purple from head to toe with great Mardi Gras costume accessories like these. Costume hats, boas, masks and accessories are the way to turn any Mardi Gras party into a wild celebration. These accessories are a great way to get your guests ready for the party of a lifetime!
Papier Mache Masks Activities Box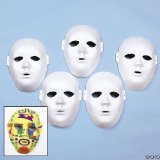 Decorate Your Own Paper Masks (6 pc)