I have a youtube channel with over 700 Videos!


Hi, Thanks for visiting my website. My name is Will and if you have questions
or would like to
contribute projects or ideas you can contact me

Paper Mache Supplies
| | |
| --- | --- |
| | Here are some supplies including tools, paper mache and books that will get you going in paper mache. |
Chenille Kraft Company : Paper Mache Classroom Activities Kit -:- Sold as 2 Packs of - 1 - / - Total of 2 Each
Papier Mache Classroom activities kit includes 24 papier mache frames, eight each heart, oval and rectangle. Also includes all you need to decorate them: feathers, foam, poms, sequins, gemstones and glitter glue pens.:
Alex Paper Mache Studio Kit with 1 Lb. Of Paper Mache Mix
Make your own brilliant paper mache creations with this fun, easy to use kit! Just mix the paper mache with water, and start crafting your own beads, figures, pencil holder, pencil toppers and more! This award-winning kit is great for groups and parties!
Product Description
You can make lot of beautiful crafts with this Ready-To-Mix Paper Mache activity kit. Just add water, mix, mash, shape, mold and form! It dries overnight, then paint your creations and decorate them with accessories. You can make several things with paper mache, like flowers, a pencil holder, pencil toppers, finger puppets and more! Winner of the Parents' Magazine's Best Toys and Creative Child Magazine Toy of the Year Awards.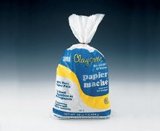 Claycrete Instant Papier Mâché (AAC41811R) Category: School Supplies

Economical Claycrete® is easy to prepare and model, and will not stick to hands or tools. Mix with water and use immediately. When dried at room temperature, finished projects are very lightweight and exceptionally white.
5 lbs.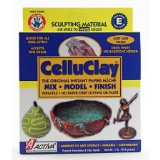 I have a done a lot of projects using Celluclay. You can see some of them, get information and tutorials and see how it looks when working and when done here: About Celluclay
It comes in four different packages:
Masquerade in style with Mardi Gras Masks! The Woman Paper Mache Mask is a great addition to any Mardi Gras party. Let your guests design their own venetian party mask! Full face mask. Made of paper mache. White elastic band for easy wear. One size fits most. 6 1/4" across the face and 8 3/4" tall. Make sure your guests are gold, green, and purple from head to toe with great Mardi Gras costume accessories like these. Costume hats, boas, masks and accessories are the way to turn any Mardi Gras party into a wild celebration. These accessories are a great way to get your guests ready for the party of a lifetime!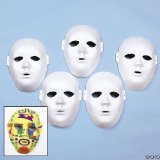 Decorate Your Own Paper Masks (6 pc)
Papier Mache Masks Activities Box
BOOKS
---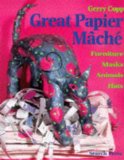 Great Papier Mache: Masks, Animals, Hats, Furniture
Copp shows how to make a range of colourful and fun items from face masks for theatre work to hats and c ats, a giraffe and camel, a life-size throne, and a working grandfather clock. Clear step-by-step photographs guide you through each stage.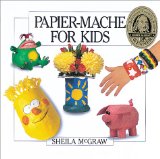 Papier-Mache for Kids
- By experimenting and simplifying, papier mache expert Sheila McGraw has created a how-to book for kids with projects that fit the level of skill, the hand-size, and the attention span of children. Each how-to step is matched with a clear, full-color photograph and concise, simple directions. Clear symbols denote where an adult's help or supervision may be needed. 145 photographs.