All About Celluclay
Celluclay is a pretty amazing product with a lot of different applications. I will tell you a little bit about it and show you some of the applications that I have used it for.

Traditionallly Celluclay has been most frequently used for making masks. And it is often thought of as a type of paper mache, which it technically is. But it is quite a bit better than regular home made paper mache for a few different reasons.
Here is what the company has to say about it:
Celluclay Instant Paper Mache - Simply add water. Needs no firing; air dries. Completely nontoxic. Adheres to almost any surface. Versatile - can be sanded, sawed, and nailed.

It is a low cost, recycled paper medium which mixes easily and molds quickly. It can be sanded, sawed, nailed and water proofed. Wet Celluclay can be added to areas already dried . And any unused mixed Celluclay can be stored for several days in a sealed plastic bag in the refrigerator. Celluclay adheres to almost any surface and can be combined with a variety of materials. Celluclay requires no special tools for working. (simple sculpting tools include plastic knife, fork, stirrer, toothpicks, cookie cutters, etc.) Celluclay products carry the ACMI's - AP Non-toxic certification.
It comes in four different packages:
Some Of my projects with Celluclay
The picture below is a closeup of a cardboard sword that I made and then coated with celluclay. It forms a nice hard shell and it gives a great texture. I really like this look on the sword. I did very little after drying work here. I just brushed it on and spooned it around then I let it dry and painted it.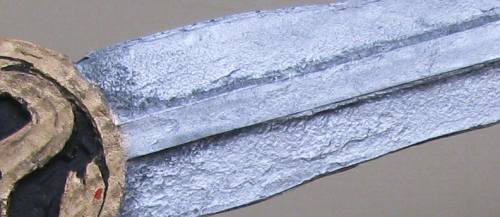 Here is another picture of the sword while being painted. The silver is a spray paint and the black is a very wet wash.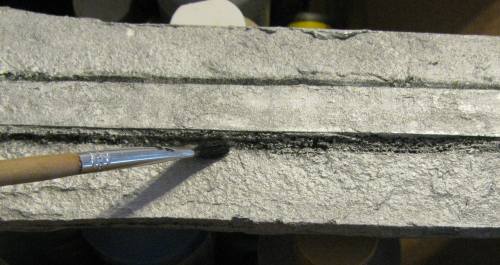 The following pictures are of a celluclay castle. I carved the castle out of foam then coated it with the clay.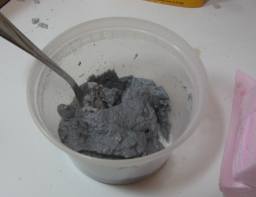 Mix it with water to get the consistency you want. And you can experiment with this to get it perfect for your application. Note that you can also add white glue to the mix if you want an even stronger bond.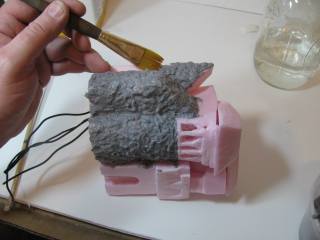 Spoon and brush it onto the project. Notice the dappled look. This will reduce quite a bit when drying.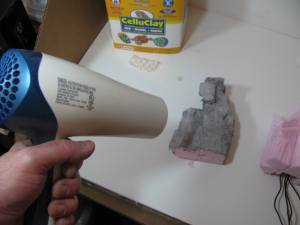 Use a hair dryer to speed up drying time.
You can see that the dappling has reduced quite a bit and left a nice textured shell. Once it is completely dry you can sand it, file it, drill it or work it in any number of ways which is a big improvement over traditional paper mache.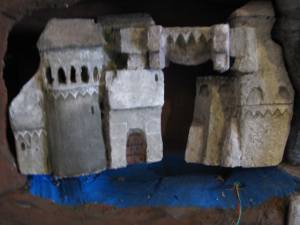 Here is the completed and painted Celluclay Castle.
This castle is part of my wall diorama project. You can see more of that project here: The Fantasy Wall Diorama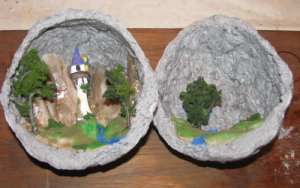 A Celluclay Geode: This is a fun and creative project where you make a geode out of celluclay and inside you put something. I put a little diorama scene from the movie "Tangled". You seal up the geode and give it to someone so they can crack it open and see what's inside. The Celluclay Geode Diorama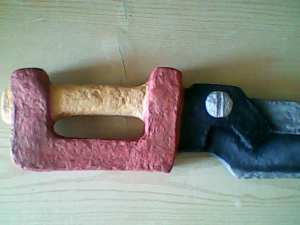 Here is a sword that a web visitor made using Celluclay. He starts out with a wood base then coats with celluclay. See more pics here
RESOURCES
---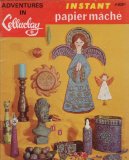 Adventures in Celluclay: Instant Papier Mache Book #3001
31 pages; over 30 projects as well as instructions and techniques.
It comes in four different packages: