I have a youtube channel with over 700 Videos!


Hi, Thanks for visiting my website. My name is Will and if you have questions
or would like to
contribute projects or ideas you can contact me

Paper Mache Animals
| | |
| --- | --- |
| | looking for blank templates or shapes to make paper mache animals? |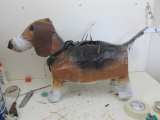 Make a Paper Mache Animal Pinata
This is a neat tutorial where I show you how to make just about any kind of animal pinata. I also take this to a new level and make the pinata so it talks when it gets hit! That's an optional thing and you can see the tutorial here: How to make an animal pinata out of paper mache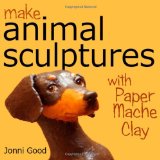 Make Animal Sculptures with Paper Mache Clay: How to Create Stunning Wildlife Art Using Patterns and My Easy-to-Make, No-Mess Paper Mache Recipe
If you've always wanted to create life-like animal sculptures, but you thought it would be "too hard" or "too expensive," you're in for a very pleasant surprise. This book contains step-by-step instructions and over 250 photos to guide you through the enjoyable process of making realistic animal sculptures in a whole new way.
Jonni Good's easy techniques help you create stunning wildlife art without the mess usually associated with papier mache - and the patterns included in each chapter guarantee that your sculptures will be perfectly shaped and proportioned from the very start.
Paper mache clay takes about 5 minutes to make, using inexpensive ingredients. Applying the clay to your form is as easy as frosting a cake. It goes on smooth, and dries hard and strong. It's easy to form life-like details like eyes and noses, fur and scales. Then finish your sculptures with acrylic paints to bring them to life. Jonni even shows you how to create your own patterns from original drawings or photos, so you can use her techniques to sculpt any animal you like.
Creating life-like animal sculptures has never been so easy, or so much fun!