Kites, Supplies, Materials and Books
Kites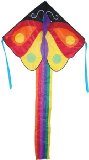 Large Easy Flyer, Butterfly, 46
We designed this kite for the flyer who wants zero percent frustration and one hundred percent fun! Simple assembly and no-hassle flying make these beauties the easiest kites to fly. With many designs to choose from, you're sure to find just the right Premier Large Easy Flyer to amuse the young and the young at heart.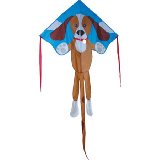 Large Easy Flyer, Sparky Dog, 46" x 90"
This colorful Sparky the dog kite was designed for the flyer who wants zero percent frustration and one hundred percent fun. It has simple assembly and no-hassle flying making it an easy kite to fly. Includes 300 ft. of 30 lb. test line and winder. Ages 5 and up. Buy From Amazon.com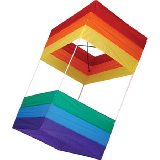 Traditional Box Kite, 20" x 40"
True classics never go out of style and few designs have withstood the test of time like traditional Box and Cellular kites. For simplicity and elegance, nothing beats them! 20" x 40" in size. Wind range 7 to 20 mph. Recommended line 50lb test, sold separately. Buy from Amazon
SkyfoilT Frameless Parafoil Kite: Lazer by X-Kites
The Skyfoil is frameless, lightweight and ready to flying without assembly. Just add wind and you are ready to fly and soar the afternoon away! After your day of playing in the wind, just fold up your kite and store it inside the pouch included. This really is the BEST "take anywhere" kite! The Skyfoil Frameless kite is always ready to fly and has no sticks to break. Nylon carrying case included.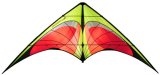 Prism Quantum Stunt Kite (Fire)
The perfect choice for first-time pilots, the Quantum's 7-foot wingspan is big enough for serious pull and excitement and stable enough to make learning a snap. Impressive wind range, adjustable bridle, and practically indestructible carbon frame make it the kite you can learn with but never outgrow. Its high performance delta wing is carefully shaped from ripstop nylon and Mylar laminate with Kevlar reinforcements at the nose and tail for impact resistance. Color-coded lines make setup a snap. Ready-to-fly package comes complete with high performance Spectra 85' x 150# lines, winder, flight straps, and compact zippered travel case with easy instructions printed on the case so you'll never lose them. Buy from Amazon.com
Go Fly a Kite at Amazon.com
- Amazon.com has a great selection of kites and accessories from the Go Fly A Kite company.
Kite String and Accessories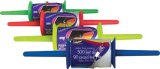 Kite Spool - 90 Lb Test (Assorted Colors)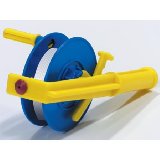 Kite Reel w/ 200' 30 lb Nylon Twine
Kite Books and Kits
Kites for Everyone: How to Make and Fly Them
Thorough, expert guide with easy-to-follow illustrated instructions for creating more than 50 awesome, airborne objects - everything from simple bag kites to Vietnamese, Snake, Dutch, Dragon, Bullet, Delta, and Flowform flyers. The author also covers windsocks and toy parachutes. "It's like having a veteran kitemaker in the classroom." - Science and Children .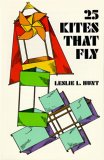 25 Kites that Fly
Full, easy-to-follow instructions for novel kites made from inexpensive materials. 70 illustrations.