This affordable kit includes everything needed by beginners to master the age-old art of paperfolding.

. 3 great starter books
. 55 fun-to-do projects
. Over 1,000 easy-to-follow illustrations
. 96 sheets of authentic origami paper in traditional vibrant hues, rainbow patterns, and metallic colored foils.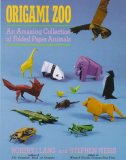 Origami Zoo: An Amazing Collection of Folded Paper Animals
In Origami Zoo, two of the world's finest paper folders present an exciting collection of original origami animals. Their creatures, ranging from the exotic to the familiar, the elegant to the whimsical, will both inspire the beginner and challenge the most accomplished folder.

Choose among the dolphin, penguin, swan, owl, goose, kangaroo, praying mantis, or even the mythical Pegasus or extinct wooly mammoth. Each of these thirty-seven new projects is true origami-folded from a single piece of paper with no cutting or gluing-and is complete with clear step-by-step diagrams, instructions, and a photograph of the finished model.

Origami Zoo will challenge and delight anyone with a penchant for creating something wonderful out of (almost) nothing.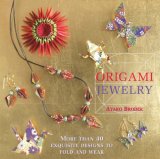 Origami Jewelry: More Than 40 Exquisite Designs to Fold and Wear
With precise instructions and vivid, four-color photographs, Ayako Brodek shows readers how to create 40 elegant and unusual pieces of jewelry. Each project includes a list of materials, illustrated step-by-step folding and finishing instructions, a beautiful photo of the completed piece, and
suggested color variations, paper designs and embellishments to make each piece exciting and unique.

The book opens with sections on choosing paper, equipment, basic folds and bases, and making the piece that then become building blocks for all of the modular and beaded origami jewelry designs featured in the book. There is a section on finishing techniques, followed by the main part of the book,
the Directory. Author Ayako Brodek has organized the Directory by seasons and motif, and includes a section of Traditional Japanese Designs as well. Each project is coded by type: (F) Figure; (M) Modular; and (B) Bead.

For Spring, readers will learn to make the Butterfly brooch/pendant, hairpin, bracelet and earrings; The Flower Bouquet brooch; and the Chick & Egg brooch/pendant. Summer offers the Sunburst brooch/pendant and matching earrings; the Seashell brooch and earrings; and Beach barrettes. In Fall,
theres the Leaf brooch/pendant and earrings and the Pinecone necklace and earrings; and for Winter, the Festive foil beaded bauble necklace and earrings, and the Star brooch/pendant and earrings. In Traditional Japanese Designs, readers will find favorites like the Crane brooch/pendant, tie tack
and earrings; the Kimono brooch/pendant and earrings; and the Paper Fan brooch/pendant and earrings.
- Origami Paper -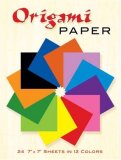 Origami Paper: 24 7" x 7" Sheets in 12 Colors (Origami)
High-quality Japanese origami paper is specially manufactured to resist tears and produce clean lines and crisp folds. Each sheet is colored on one side only to make it easier to understand the various folds. A sturdy shrink-wrapped folder keeps papers neat and clean until ready for use.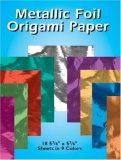 Metallic Foil Origami Paper: 18 5-7/8" x 5-7/8" Sheets in 9 Colors (Origami)
Origami creations take on a shiny new look with these colorful metallic foil papers. In addition to silver and gold, the shimmering assortment of hues includes burnt orange and tangerine, sapphire blue, spring and forest green, magenta, and violet. 2 sheets of each color in a shrink-wrapped folder.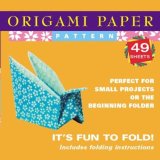 Origami Paper Pattern: 49 Sheets (Origami Paper Packs) (Origami Paper Packs)
A new pack in the small paper size full of geometric patterns based on traditional Japanese designs. Perfect for any folder who wants to add a distinctive flair to their origami projects, the new paper pack will have the same affordable price as our original Folding Paper for Origami.

The packaging for the new paper pack has been completely redesigned, with a colorful printed cardstock cover, and an 8-page insert with folding instructions so that folders can get started right away.