Make a Pine Cone Christmas Tree
"Poor Mans Christmas tree"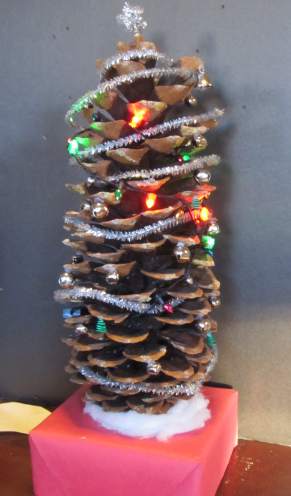 I call this the Poor Man's Christmas tree and it is a fun project that gives you a lot of opportunity for creativity. Other than the outrageously large pine cone you can scrounge up all kinds of things to add to your tree. You can have a lot of fun with this.

I don't really have to give you a step by step assembly of something like this but I will give you some great tips and tricks on how to assemble it and how to decorate it.

I have three sections to this tutorial. We make the base of the tree, we make ornaments and we make the presents.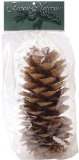 Here is the exact pine cone I bought from Amazon.com. I ordered two of them and they are about a foot in height. Natural Large Sugar Pine Cone
Roll over the text for more info.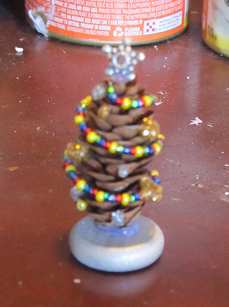 I make trees that are about a foot tall in this tutorial but you don't have to! I scounged up some pine cones and make trees out of them also. This one is just a couple of inches tall. Add a little base and have some fun with the decorations. On this tree is a string of beads. Keep that in mind and have some fun with it. The little trees have a charm all their own!
Let's Make this Christmas Tree
I started out with a styrofoam base and cut a hole in it to sit the tree. You can see a sheet of construction paper that I used to cover the base. You can use just about anything including a small box or even make a small stand out of pieces of cardboard.
I filled the hole with a product called Great Stuff. This is an easy way to secure the pine cone to the base. You can use just about anything including a glue gun.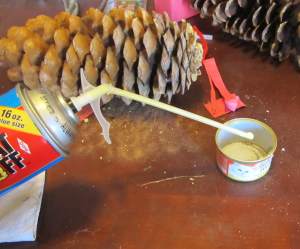 I also made another tree where I poured the Great Stuff into a can then sat the pine cone right into that.
This picture shows that process. The can at the bottom has great stuff in it and the pine cone is placed right into that. It forms a nice little base.
Now maybe you don't have any great stuff and that's ok. The point here is to show you that there are lots of ways to improvise the base of the tree.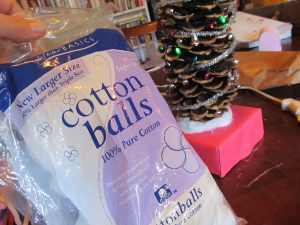 And of course you can use cotton balls around the base of the tree. You could tease out threads of cotton too and use that for tinsel on the tree.
Let's Make Some Ornaments!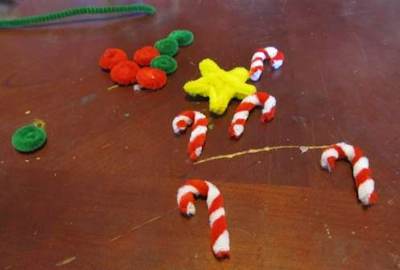 Pipe cleaners can be used to make some terrific ornaments including stars, balls and my favorite: Candy Canes!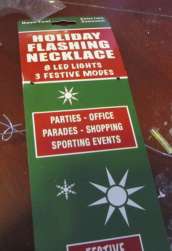 I spotted this little package of flashing christmas tree lights while I was standing in line at the hardware store. It's battery operated and it comes with the battery. Nice little addition to one of my tree. The picture at the very top of this page shows the tree with the lights.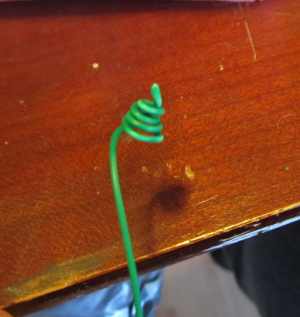 And little bits of colored wire can be used to make all kinds of ornaments.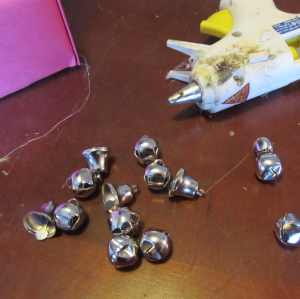 Here are some great little bell ornaments that I used. If you scrounge around you can find all kinds of fun stuff for your tree. The hot glue gun makes it easy to attach things to the tree.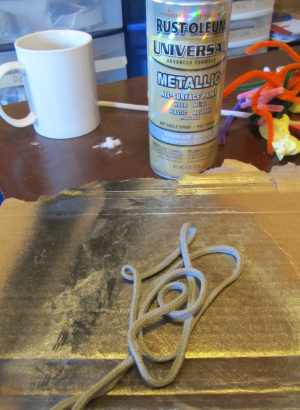 Here I used silver metallic spray paint on a shoe string to make some garland. It looks great on the tree.
What's A Christmas tree without Presents? Let's Make some presents!

Continue on with the tutorial here: How to make the miniature christmas presents
nd Here are my two trees on display on top of my medieval village diorama. You can check out my medieval village project right here: The Medieval Village Diorama
Looking for more ideas for Christmas ornaments and project?
---
For anyone who adores the art of creating small things, The Art of the Miniature provides a treasure trove of practical techniques and ingenious approaches. In this captivating guide, noted artist Jane Freeman shows readers, step by step, how to use modified kit components and found and handmade objects to create intensely detailed miniature constructions. Readers will learn the entire process of creating a miniature room, structure, or landscape, from selecting a container to choosing the subject, approach, and style. Page after page of wonderful, full-color examples display painstakingly accurate "portraits" of interiors and buildings (like a Hollywood studio and a trendy New York City retail store), imaginary opera sets (Don Giovanni, The Magic Flute) and even the studios of famous artists. The book also features the inspirational work of several other leading miniatures artists, including Susan Leopold, David Levinthal, Victoria and Richard MacKenzie-Childs, and Alan Wolfion.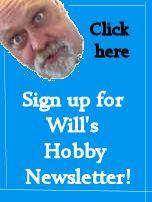 Do you like making projects and exploring a variety of hobbies?
Sign up for my free newsletter. I give you regular updates on hobbies and projects you can make. it is totally free and I don't share your email with anybody.