The Black Dragon Paper Castle
This is a fun little paper castle project that I am making into a tutorial so you can print it up and make it yourself. Bookmark this page if you want to check back in a few days to get the completed project. It all fits on a standard sheet of printer paper so you can download it, print it up and make it yourself.
And there is a lot of wiggle room in this project. I used posterboard, paper towel rolls and red and black construction paper. But you can vary it any way you want to. I think that some green would also look good too because that is a good color for a dragon.
Fun project because of the visual metaphor that makes the castle look like a dragon and you can see the dragons head, shoulders, back and tail. Lot of fun but a bit of a challenge because of the curves that are involved. So you may have to do some tweaking as you build it. These pictures are just of the prototype that I made. The final version will be a little more refined.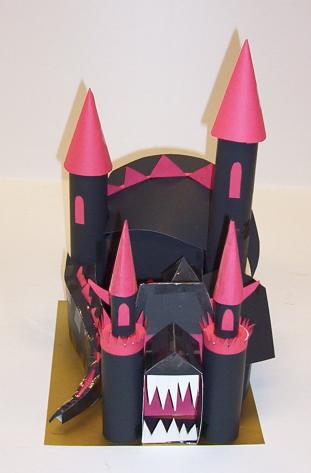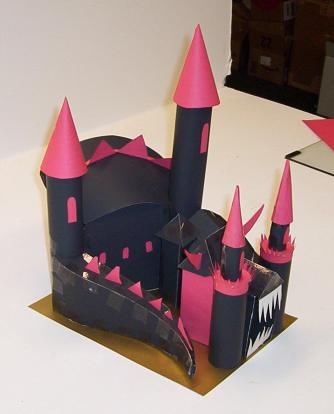 Along with this tutorial comes a packet of 13 pages, you can print these pages up. They are the parts of the dragon castle. The first page is the base and it has the layout for the various parts. I recommend you make each part and place it on the base. But do not attach the parts to the base until you have all the parts made. This way you can adjust it as needed. Here is a microsoft word document with all the artwork. Download it, open it and print it out Black Dragon Castle
I also have a helper document that takes you through the steps of making this dragon castle. Paper Dragon Castle Helper Document (Microsoft Word Document) Right click and Save as
And I have a video that shows you the most difficult assembly part, that of the dragons body. This part is tricky because everything is curved. You can right click and save as then play it. Video for building the dragons body (8Meg WMV) , right click and select save as
Some Suggestions and Tips: Print up the sheets on regular white paper, cut them out then transfer the patterns to red or black construction paper. There are also a few details that I have left out like the windows on the dragons body and the red spikes along the top of the body and the tail. You can draw these up and improvise anything you like. I also suggest you use a little green in your castle. It would make it look more like a dragon!
Web Visitor Submitted Pictures of their Green Dragon Castle!
No reason why your castle has to be Black! This green Dragon Castle
Came out great! A special Thanks to Kerry for all her hard work on making this castle!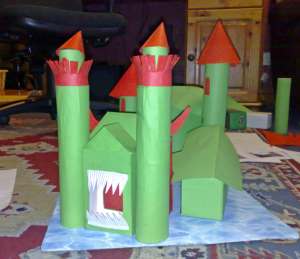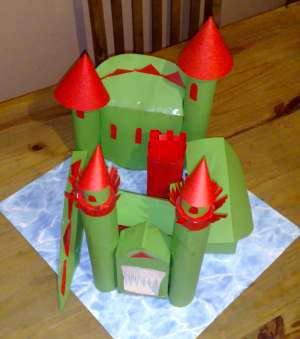 Difficulty level: This paper castle is a bit of a challenge because of the curved shapes. I do have a couple of other more traditional castles you might want to check out
Castle 1: An easy square paper castle ----- Castle 2 Neuschwanstein Fantasy Paper Castle
Here are pictures to show you what each section of the castle looks like: (Roll over the picture for its name)