My Terrarium Videos on YouTube!


Hi, Thanks for visiting my website. My name is Will and if you have questions
or would like to
contribute projects or ideas you can contact me

Being Creative With your Terrarium Making
| | |
| --- | --- |
| | When it comes to terrarium making you have endless possibilities.It isn't just limited to putting some plants in a container. So, let the creativity flow and see what you come up with. Here are a couple of examples of creative terrariums submitted by a web visitor (Badia A.) Maybe you will get some ideas for your own terrariums. My thanks to Badia for these terrific projects :) |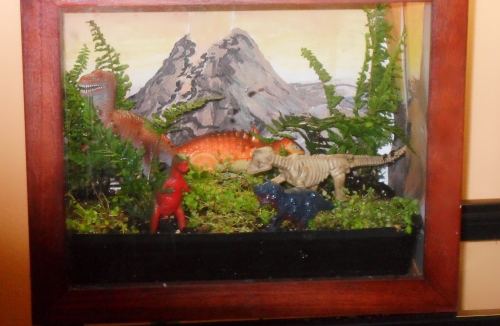 A Dinosaur Terrarium: The above pictured terrarium is a good example of creativity on several different levels. First off you can see that it is a shadowbox. A shadowbox is not normally associated with terrariums but you can see that it actually works quite well and you can build a shadowbox rather easily. All it takes is some sheets of wood and a picture frame for the front. Voila! You can create your shadowbox terrarium.
Themes and Plants: In the case of this dinosaur diorama all it takes is a few plastic dinosaurs, some kind of a background, and some suitable plants. Ferns work very in this case.
What other themes can you create? Well, the possibilities are limited only by your imagination but let me give you a few examples:
A moonscape (some exotic plants would look great in this)
Outwest Desert scene
Egyptian scene
Jungle theme
Carnivorous theme
Hobbit theme
A scene from your favorite book
A fairy scene
Dragon Scene
Hawaiian beach scene
An underwater scene
A Japanese Garden
Okay, lets take a look at another project made by Badia. This picture shows container creativity. This is one of the most important aspects of terrarium making - choosing the container and as in the shadowbox style terrarium the possibilities are endless. This one has a particular attraction to gardeners because it is almost a theme within a theme. It uses a gourd like gardeners watering can as the container itself.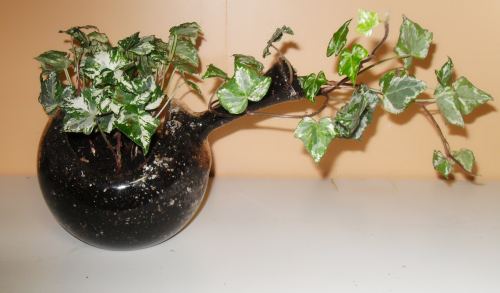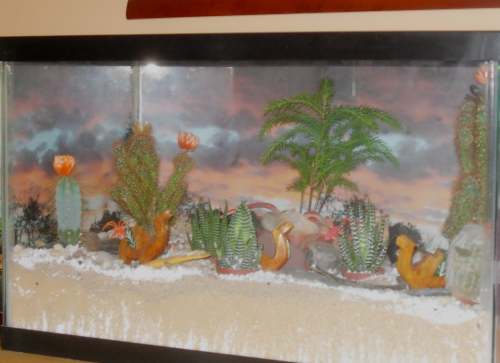 So, even if you are new to the art of terrariums you can still keep it reasonably simple yet come up with something unique and creative. Have fun with it and be sure to send me pictures!
RESOURCES
---
Unique Terrarium Containers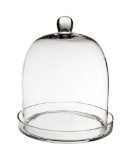 Glass Cloche, 11 inches Height Plant Terrarium
Glass Cloche, Glass Cloche Bell Jar
Glass cloche plant terrarium
Pack of 1 pc, H-11" Bottom D-8", Clear
Glass cloche with tray
11 inches Height including the Knob and Base Thickness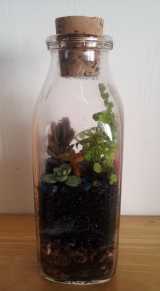 Simplicity and beauty in a terrarium
A simple and elegant terrarium is a great way for you to start out. You can keep it simple, choose a nice container and a few plants ... and end up with something beautiful. That's what Maya did with her first terrarium. See more pics of this terrarium and read how she made it. The simple and beautiful terrarium