How to Make Realistic Looking
Miniature Trees
This tutorial shows you how to make very realistic looking miniature trees. It comes complete with a video tutorial that takes you through the steps I take in making a tree. For the most part it is all commonly found items except for the foliage; I use woodland scenics tree foliage for this. You have several different options when it comes to sculpting the trunk of the tree and I look at these options. Whether you are building a tree for your tabletop wargaming or for your diorama this tutorial will show you how to make realistic looking ones without a whole lot of hassle or work.
Here is the video tutorial that shows you how I make the tree as I make it. I also have complete web based instructions on this page just below the vid.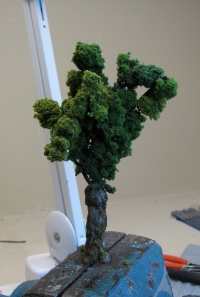 The picture at left shows the tree I make in this tutorial.
The picture below shows the various tools and materials needed for this tutorial.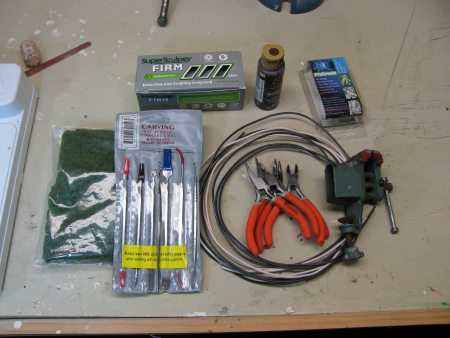 You do have some flexibility when it comes to making trees. For example, I use 14 gauge common house wire for the armature of the tree but you can substiture other types of wire. And for the clay I use as an example Super Sculpey but you can use just about any type of clay or 2 part resin that will harden. The Super Sculpey will need to be baked so if you want to avoid this step then just go with one or another type of resin.
Wire, strong but pliable (I use regular house wire)
Some type of Clay that will harden (SuperSculpey, ProCreate, GreenStuff, Even a polymer Clay)
Paints and brushes
Sculpting tools
Hand tools: Needle nose pliers, regular pliers
A vise to hold the work (Optional but nice)
foliage for the tree (I use woodland scenics tree foliage but you can improvise)
Step One: Cut six pieces of wire about a foot long and twist one end of then all together. Leave one wire straight and in the middle of the wrap.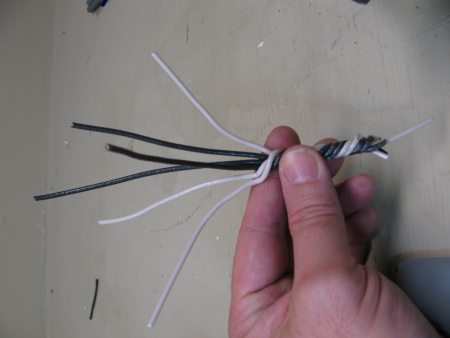 Step Two: Mount the tree armature in a vertical position so you can work on it and add clay to flesh out the trunk. A tree is not a vertical column like a Roman column. Make it varied and twist it a little bit. This will make it more interesting and more realistic.
Step Three: Sculpt with various tools. One good technique is to use the point or edge of a pick like tool to put lots of bark-like indentations. You can have a lot of fun with this stage. See how I made a couple of hollowed out sections that look like a limb used to be there. Look at trees,as silly as that sounds, to get an idea of how you should sculpt your tree. Once you have finished the sculpting you should either let it dry completely or bake it depending on which type of clay you used.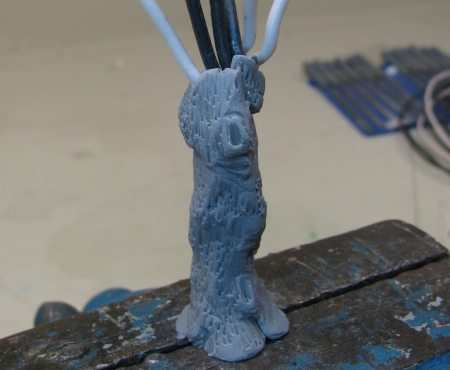 Step Four: Paint the tree. I painted first a coat of dark brown then I washed it to give it an aged look. Then I added a little bit of white and a little bit of green. I also glued small bits of terrain material to the bark.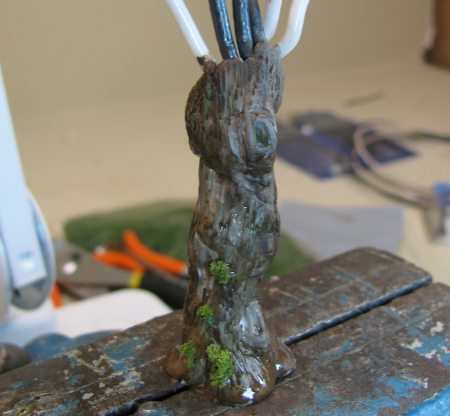 Step Five: Now its just a matter of letting it dry then applying the foliage materials. You can use the traditional dip it in the bag method or you can apply the textures a little bit at a time as I do in the video. One important thing to think about when applying the foliage is to use different shades of color. Don't make it all one uniform color. In this example I use two different shades of green.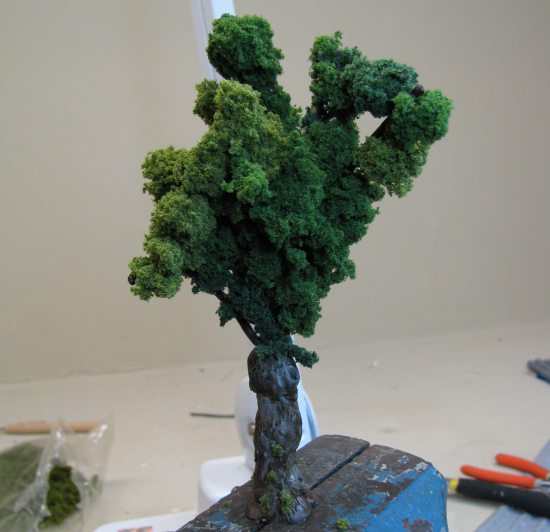 RESOURCES
---
Deciduous Tree Kit, Small (36)
Deciduous Tree Kit, Medium (14)
Green Pine Trees Asst (18) N MDP1414
Scene-A-Rama Fall Trees
(Pre made and ready to install into your diorama)
More Trees at Amazon.com
JTT Makes Some Amazingly Beautiful Trees:
Here is a complete listing: JTT Miniature Trees on Amazon.com
They have an amazing variety of types of miniature trees and sizes. Here are just a sample of four of them.