I have a youtube channel with over 700 Videos!


Hi, Thanks for visiting my website. My name is Will and if you have questions
or would like to
contribute projects or ideas you can contact me

A Paper Neuschwanstein Castle with some wonderful added details
This castle project was built on my Paper Castle plans located here. It was built by David F., His wife Jana and their daughter Marissa. It came out really great and they added some nice touches to make it look real. Thanks to Dave, Jana, and their daughter Marissa for the great castle pics! Nice Work on the wonderful creative touches.
Some notes about how they did this: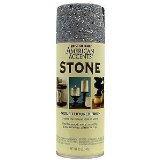 Rust-Oleum 7992830 Stone Creations 12-Ounce Spray, Gray Stone
(Available on Amazon.com or your local home improvement store)
They used a stone effect spray paint like this one made by Rust -Oleum. It gives a wonderful stone texture. This is a creative and easy way to make your paper castle look like stone! You can see this effect really nice and close up in the third and fourth pictures.
They did a couple more things that add a real special touch. The color of the courtyard is different than the surrounding grounds. They spread elmers glue in the courtyard then sprinkled sand from their sandbox. This gives the courtyard a refined look. For the details on the outside of the castle they used hot glue for the bark and the rocks, and elmers glue for the red rock which had a lot of fines in it.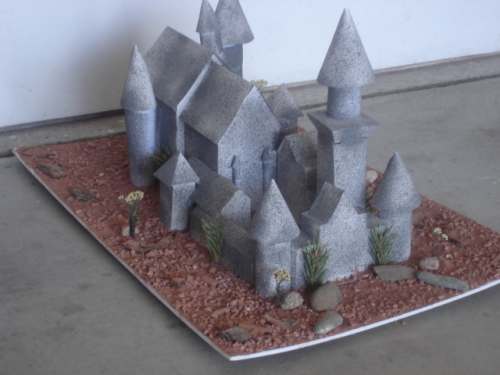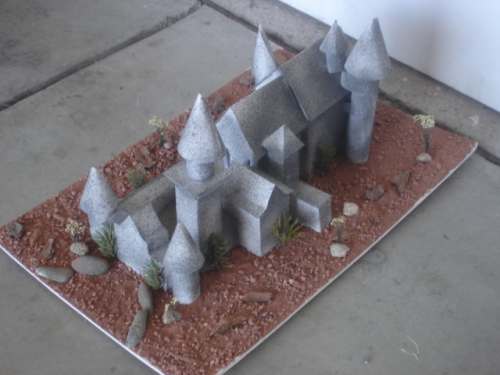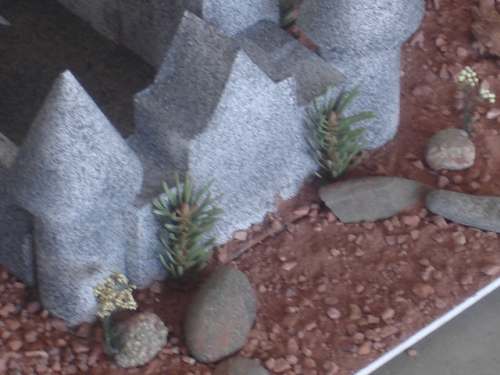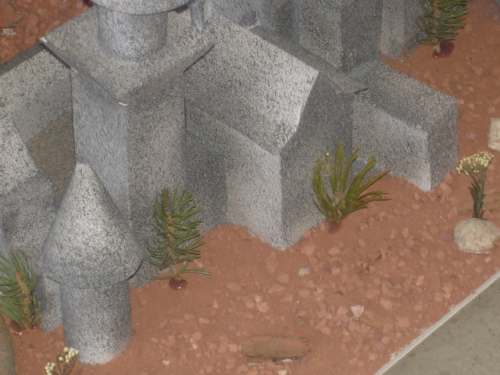 ---
I have more castles you can make!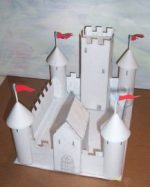 Make a Paper and cardboard Castle
If you are looking for an easier castle to make you might want to try this one! - Make a castle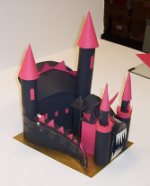 Black Dragon Paper Castle
Or if you want to build a paper castle that is a little more creative and exciting then you might want to try this one.. Black Dragon Paper Castle
Looking for another castle to build? Here are some great projects

Make This Model Medieval Castle (Usborne Cut-Out Models) I was given this project as a gift and thoroughly enjoyed it. You need to have some paper working skill to make it come out really good. I used a little too much glue when attaching the parts to the base so the base came out just a little wrinkled. When you do a project like this always be sparing with the glue. The subtle colors of this model are really nice.

Castles to Cut Out and Put Together
Cut & Assemble a Medieval Castle: A Full-Color Model of Caernarvon Castle in Wales
Make This Medieval Village (Cut Outs)
Easy-to-Make Castle (Models & Toys)
Days of Knights and Damsels: An Activity Guide (A Kid's Guide series)