Castle Neuschwanstein
A Creation in Clay
(Part 1) The Gate Towers
Return to the Paper Neuschwanstein Castle plans here -
Part 1- The Gate Towers - you are here
Frederick has taken my paper plans for Neuschwanstein castle and has used them to make a clay castle. Here you can follow along and see exactly how he did it.
Started the day off very excited about my project of re-creating Will's paper castle in clay.
Firstly let me tell you a bit about the person who is attempting this. I am a retired video editor living on a small block of land in Franklin, New Zealand. I was a part time potter many years ago and have recently decided to take it up again, now that I have the time.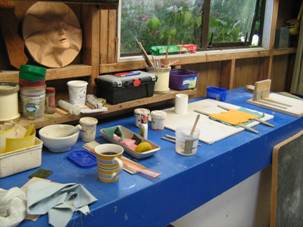 This is my workspace in my triple garage. The bench is part of a set from a tv commercial I edited many years ago .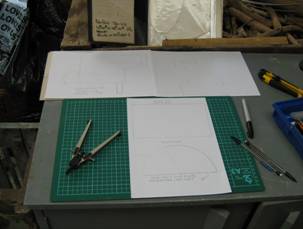 Getting ready, this is my template creating area, where I will be cutting out the cardboard shapes from Will's patterns.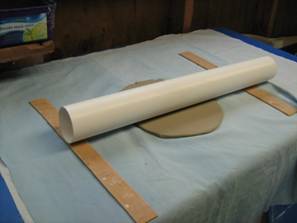 Here is the rolling of the very first slab, of many, many that I am going to be rolling out in the future!
Note the rolling pin is a piece of plastic downpipe left over from building my house.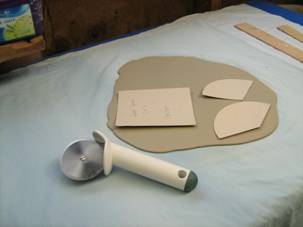 Here is the first of the pieces for the first two towers that I am making today. Note the pizza cutter, great for cutting straight edges!
The cardboard shapes are for the two towers and the roof for the towers.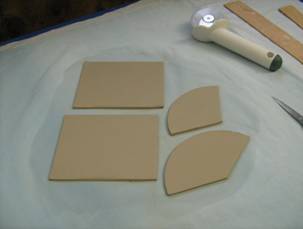 Here are the pieces cut out ready to dry til they are leather hard so I can work them but.....
Here are the tower walls wrapped around another plastic pipe to shape them as they dry to leather hard.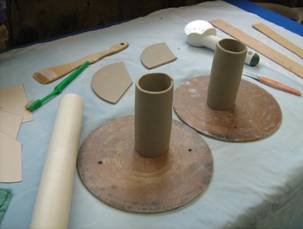 Here are the first two towers taken off the pipe once hard enough tom stand up by themselves.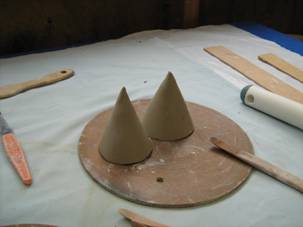 Here I have rolled the roof shapes to create the cone shape required. No two pieces of hand built pottery are ever identical!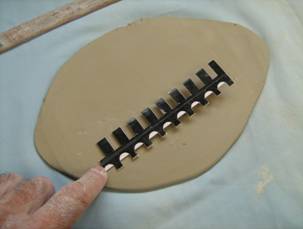 After looking at the photos I realised that the Neuschwanstein Castle actually has crenulations on the front towers so I designed some off the photo below.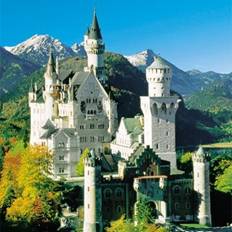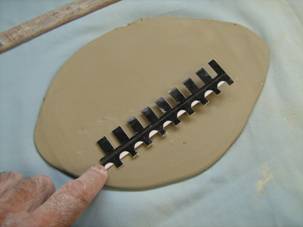 It took some design work to get it to fit around the circumference of the tower but.....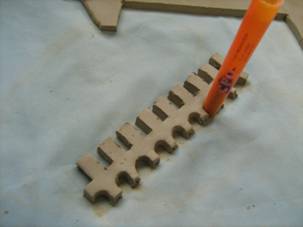 Here we are using the barrel of a pen to create the circular holes at the base of the crenulations.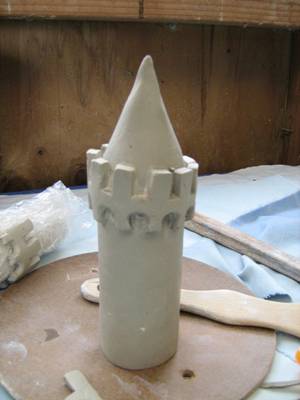 Here is the first tower complete, still needs work to tidy up but I will wait til it is dry and then fettle it clean.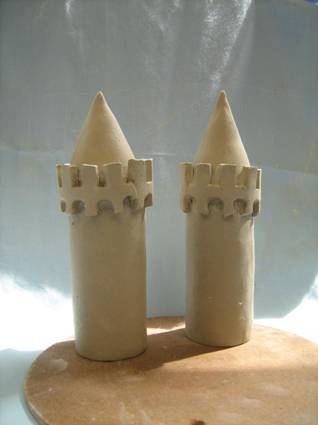 The first two pieces of Neuschwanstein Castle ready to be dried and finished off.
Day 1 was successfull!
-Frederick

Continue to Part 2 of this Clay Neuschwanstein Castle - making the Gatehouse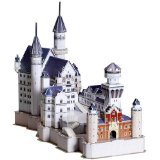 Neuschwanstein Castle 3D Paper Model
- Want to make your own Neuschwanstein Castle out of paper? Amazon.com has a great kit. Measures 16.7 x 6.5 x 11.9 inches when complete. 99 pcs. Easy to Assemble. Made of Paper and Polystyrene Foam Board. For Ages 10 and Up.
Puzzle 3D Neuschwanstein Castle
- Puzzle 3d also has a great Neuschwanstein Kit. This is an amazing puzzle with 836 pieces!