How to Make Miniature Christmas Presents
Miniature christmas presents are a whole lot of fun to make. You can improvise a whole lot of stuff with random materials and supplies you have running around. And, you are not limited to just making boxes. You can make all kinds of stuff including christmas cards, bags, wine coolers and more.

Just let your imagination run wild. Here I have some great tips on making some terrific little miniature christmas presents.
Here are the presents I make in this tutorial. You can see the base of a pine cone christmas tree in this picture. I also have a tutorial on how to make that too: How to make a Pine Cone Christmas Tree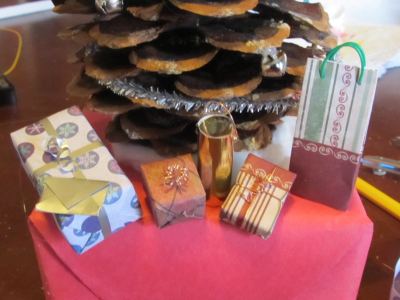 Some Quick Tips on making miniature Presents:
If you can, use a hot glue gun. It dries real fast and it won't curl the paper
glue stick works well too, and double sided tape.
Use real christmas paper
Use Origami Paper - It comes in a wide variety of colors, patterns and textures
Small bits of string or yarn are great as ribbon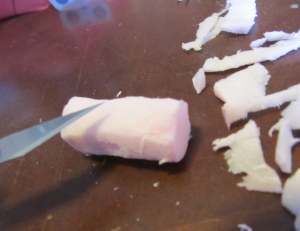 For the traditional boxes of presents simply carved some foam to the desired shape. You could use just about anything including bits of cardboard or even clay shaped into boxes.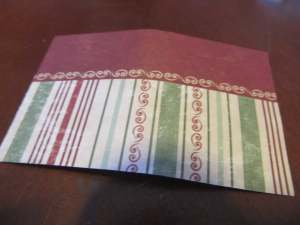 For the most part the best thing for this kind of project is patterned paper. I have all kinds of different patterns that I can use. You can use real wrapping paper or even cut snippets from magazines and flyers to give you some great colors and patterns.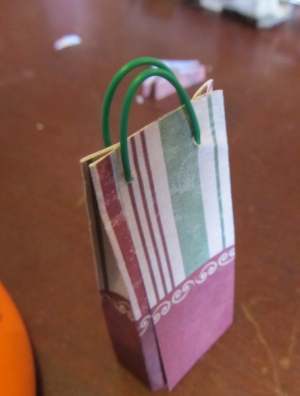 The piece of patterned paper shown above was perfect to make a miniature shopping bag. Add a little bit of wire for the handle.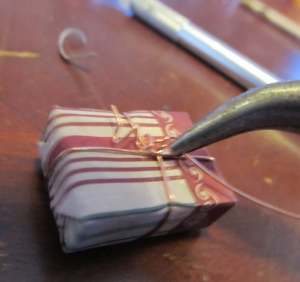 And a little bit of wire makes a terric bow and ribbon on a present.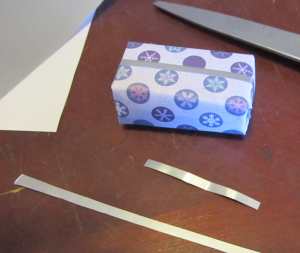 Cut some strips of foil paper or silver colored paper and you have some great ribbon.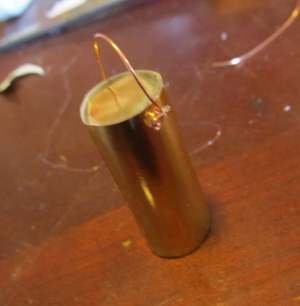 Some gold foil wrapped around a cylineder of rolled paper makes a great wine holder. A bit of wire is perfect for the handle.
A little bit of copper wire is perfect for the handle.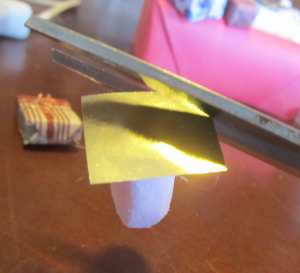 I glued a piece of gold paper to the bottom of the wine holder then cut it to shape. You can see that I originally made the container out of foam then I covered it with the gold paper.
---
For anyone who adores the art of creating small things, The Art of the Miniature provides a treasure trove of practical techniques and ingenious approaches. In this captivating guide, noted artist Jane Freeman shows readers, step by step, how to use modified kit components and found and handmade objects to create intensely detailed miniature constructions. Readers will learn the entire process of creating a miniature room, structure, or landscape, from selecting a container to choosing the subject, approach, and style. Page after page of wonderful, full-color examples display painstakingly accurate "portraits" of interiors and buildings (like a Hollywood studio and a trendy New York City retail store), imaginary opera sets (Don Giovanni, The Magic Flute) and even the studios of famous artists. The book also features the inspirational work of several other leading miniatures artists, including Susan Leopold, David Levinthal, Victoria and Richard MacKenzie-Childs, and Alan Wolfion.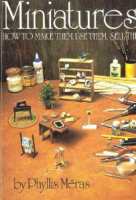 How to make miniatures book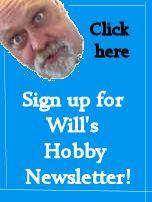 Do you like making projects and exploring a variety of hobbies?
Sign up for my free newsletter. I give you regular updates on hobbies and projects you can make. it is totally free and I don't share your email with anybody.