Painting Plastic Soldiers
Randy and his children have had a lot of fun breathing life into those plastic miniauture soldiers that we all have seen. They are everywhere and they are very inexpensive. With a few basic materials Randy shows us how to make them look terrific!

He and his children had a lot of fun with this and he tells us a bit about the process:

The simple work of adding green, brown and flesh tones made cheap plastic army men a delight. My 8 year old was very excited over the detail he had created. We primed with Aileens fast grab and painted with Michaels folk art paints.
This pic shows us from left to right the unpainted figure, the painted figure and finally the sealed figure.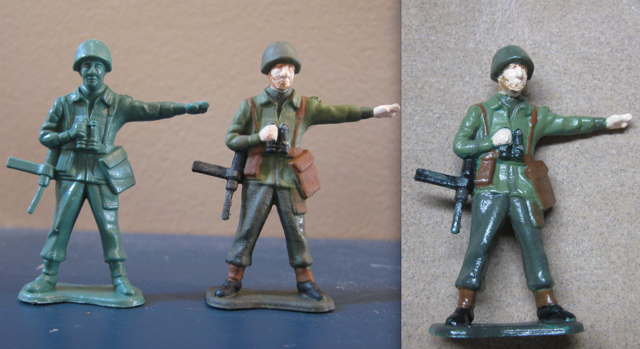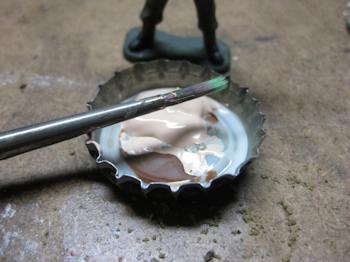 Save small containers for paint and water. Caps and lids of any kind, plastic spoons, larger lids for palettes, baby food containers.
For brushes we have used small brushes, toothpicks and dried out markers.
Priming:

Wash figures in soap and water with old toothbrush. We primed with diluted Aileens Tacky glue but as you can see it can either be to thick or too thin and pool.
It seems helpful to slightly dilute the glue primer to make it brush just a little easier. It should still be slightly thick though. After it dries for a few minutes, continue to brush it again to get any out of the detailed crevices. A real plastic primer may be preferable but this was sitting on the bench and easy for kids to use.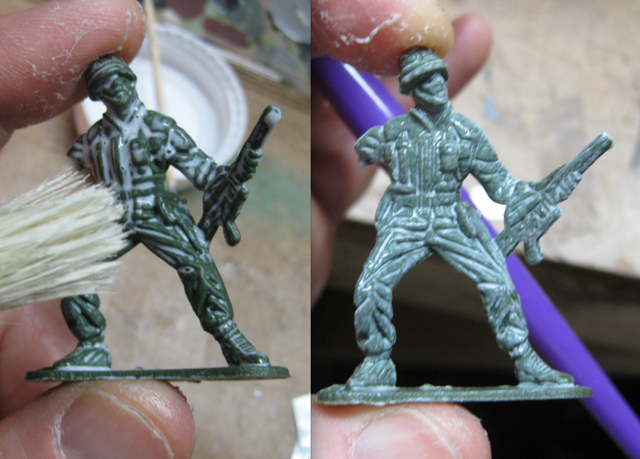 Painting, we start by painting the main color first and paint almost everything.
There are so many acrylic colors and that range in price from $0.69 to $1.49. This green was Americana "Avocado". We darkened it a bit for the helmet and paints with a touch of black. We have bought several of the brands and colors for different projects. The fluorescent paints look really nice under a black light!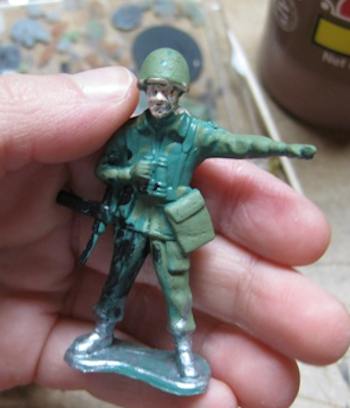 Then we do fleshtones on the face, browns and blacks for straps/boots and guns. It can help to paint a few at a time because you get done with a step and have nothing else to do. So too you can opt for too many and it ends up feeling assembly line like and you lose the ability to enjoy taking care for each guy. It seems that 3-5 colors is enough to give optimal detail. We added a minor change and darkened the greens on helmets to offer a contrast. Finally we continually go back with our extra paint and just touch up spots that we overpainted etc.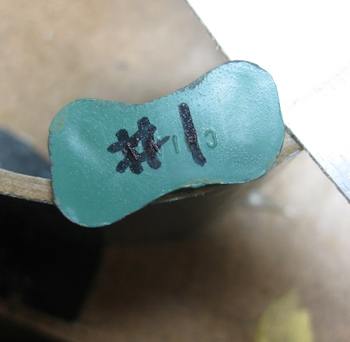 We also started numbering the guys so we can record what primer we used etc.
Sealing: I don't know what we are going to do with this yet. I'm interested in this idea of dipping them in acrylic floor wax and then hitting them with a dull coat.
We had some floor wax which seemed like a good idea as a sealer. Only a quick dip is needed. Then blow off (or used canned air) excess. Do not brush this on or touch wet areas as paint may pull off when the wax is wet. The figures finish with a gloss and almost have the appearance of a painted metal figure. You may prefer a spray clear coat but this was available in the house and worked pretty well.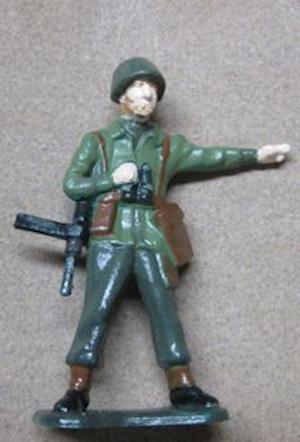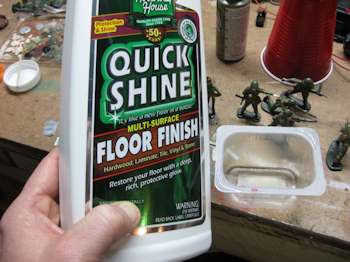 ---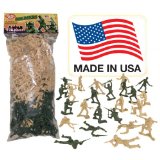 Tan vs Green TimMee Plastic Army Men: 100 Piece Set of 2 inch Toy Soldier Figures - Made in the USA !
An American Classic is back! This bag of 100 Tim Mee 'plastic army guys' is proudly manufactured in the United States, and includes 50 tan and 50 green troops for maximum play value. There's about 12 different figures and all your old favorites are here, including minesweeper, bazookaman, radio operator, 60mm mortar, light machine gunner, kneeling rifleman, flame thrower, crawling rifleman, prone rifleman, bayonet fighter, and officer with binoculars and handgun. Figures stand up to 2.1 inches tall (52mm) and are approximately 1:35 scale.
TimMee Green Patton M48 Tank 3 Piece Playset: Military Vehicles for 2 inch (54mm) Plastic Army Men - Made in the USA!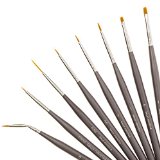 Professional 8-Detail Brush Set by KeypCreative - Thick-Handled Artist Brushes For Miniatures, Modelers, Hobbyists - Perfect For Fine Detailing - Ideal For Use With Acrylic, Watercolor & Oil Paint
GET A COMPLETE SET OF 8 PROFESSIONAL DETAIL BRUSHES: Here's your chance to gain a set of 8, high-quality brushes to help you complete all your arts and crafts projects! This set is ideal for miniature enthusiasts and modelers, as it helps you add the most subtle detailing in all your paintings!
THICK HANDLED BRUSHES FOR COMFORTABLE PAINTING: Any detailing requires hours of meticulous work over your next masterpiece! Knowing how tired you must feel having handled poor quality, non-ergonomically designed brushes, KeypCreative has made the most artist-friendly brush set, to help you fully immerse yourself in the creative process, free of distracting pain!
IDEAL FOR THE MOST DEMANDING OF ART PROJECTS: Featuring 5 Round Brushes, 2 Flat Artist Brushes for Fine Details and 1 Bent Brush for Tricky Corners, there's nothing keeping you from filling out the entirety of your works' surfaces and wowing everyone with your eye for detail!
Do you like making projects and exploring a variety of hobbies?
Sign up for my free newsletter. I give you regular updates on hobbies and projects you can make. it is totally free and I don't share your email with anybody.