How to Make a World War 2 Diorama
This is a complete and extensive tutorial that shows you how to make a World War 2 Diorama. I use 1/72 scale for this tutorial. For me this is an easy to work with scale. You sacrifice some of the detail that you can get with larger scale but it is well suited for dioramas because you can fit a lot of military models, equipment and soldiers onto it!
This tutorial covers how to make the actual diorama but there are some sub tutorials that come with this. For example, in this diorama I use two tanks: A Tiger Tank and a Sherman Tank. Which means I also have short tutorials on making and painting them. I also have tutorials on how to make barbed wire, trenches, and mud which are all parts of this project.
This installment of the tutorial also comes with a video that you can view at the bottom of this page.
Here is the completed diorama that I make in this tutorial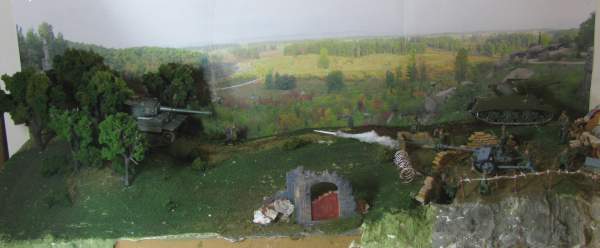 Here are the sub tutorials of this Project:
How to make mud (coming)
Another how to make a trench tutorial 1/72 scale (coming)
Deciding on your Diorama scene and concept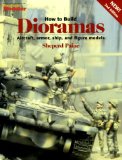 When it comes to your diorama you have to make some decisions early and these decisions might be based on some models and miniatures that you already have or these decisions will help you decide what you are going to purchase.
For me, I really wanted to do some kind of a tank battle. I just thought it would be fun. So, for this tutorial I ordered a Tiger Tank (german) A Sherman Tank (US) and an anti-tank gun. I bought a german one but the US forces are going to be using it! I also bought myself a selection of US and German Soldiers and some pre-made ruins.
Concept
The basic Idea I came up with is that of the Tiger Tank being way too powerful for the Sherman Tank so the tiger is chasing the Sherman. But there is a surprise in store for the Tiger Tank. It will be ambushed by an anti tank gun.
Here are the models I am using for this diorama: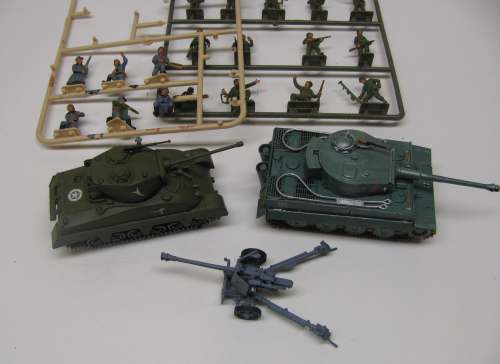 Sketching out the Concept
So, now it is time to start doing some sketches of your diorama. These don't have to be artistic in quality. They just have to give you the design, layout and placement of things. This way you can visualize what it will look like and where things will go. I did a bunch of sketches until I settled on this for the layout..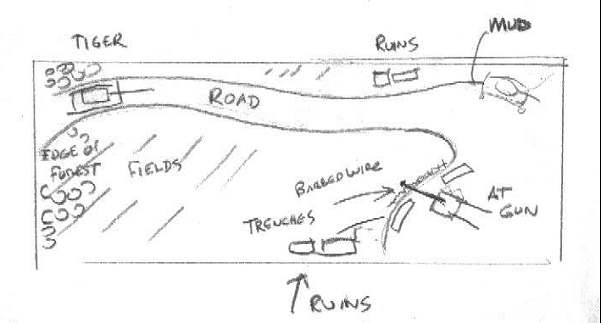 A handy technique that I use is to use the real models and move them around on a board to get a feel for the scale and what they might look like. The picture below shows the two tanks and the anti tank gun. This is the layout of the diorama for this tutorial. Once I have the design the way I like it I will actually draw all the major points right on the board. This will help me when I am doing the plaster and cardboard terrain.

Now that we have the design and layout of this diorama all figured out let's go ahead and start making it!

Let's continue with the How to make a WW2 Diorama Tutorial (Part 2)
Here is the companion video for this part of the project
Scene-A-Rama Basic Diorama Kit
- Use this kit to create a flat, landscaped surface for your project. It includes everything you need to make plains, prairies, grasslands, farmlands, woods and meadows.
Scene-A-Rama Bushes, Foliage & Grasses Kit
- Use this kit to create short and tall grasses, weeds, bushes, shrubs, hedges, ivy, flowering plants and roads and paths.
World War and Military Diorama Kits: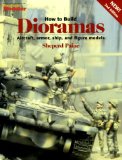 How to Build Dioramas (Book)
- Learn everything you need to know about making your dioramas look real! This fantastic revised edition will show you how with new projects, new photos, and expert tips. Includes painting, weathering, and detailing tips for figures, aircraft, vehicles, and more! 290+ photos with color throughout; 41 illus.; softcover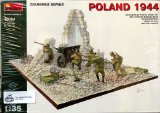 MiniArt 1/35 Poland 1944 Diorama Base w/ 5 figures
- This is the 1/35 Scale Poland 1944 Diorama w/ Figures / from the MiniArt Dioramas Series. / Suitable for Ages 14 to Adult. / / FEATURES: Unassembled diomara kit / Parts attached to a part tree / 1/35 scale / Intricate building detail of a ruined building on a diorama base / / INCLUDES: One Poland 1944 diorama / Five figures / Instruction sheet / / REQUIRES: Paint (see below) / Plastic glue (TESR1601) / Hobby knife (HCAR0100) / Paint brush (ABSR0550) / / SPECS: Length: 9.76"" (248mm) / Width: 7.48"" (190mm)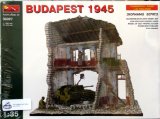 1/35 Budapest '45 Diorama Base SU-76 Tank (5 Fig) MNA36007
-
MiniArt 1/35 Infantry in the City Diorama Base with Figure Set (5 Figures)
Ruined House- Removable Floor Diorama