Making Diorama terrain with Foam Coat
| | |
| --- | --- |
| | This is a series of pictures submitted by a web visitor (Christophe I.) He is a professional scale modeler and he does some really nice work. You can check out his website here: CIDesign.com. He is recently making a move into dioramas and terrain and is experimenting with different materials and techniques. One of the unique products he is using is something called "Foam Coat" . It is a special material that is used to create a hard shell over materials, most often styrofoam. |
If you are interested in making a diorama with realistic water in it you have got to check out the second part of this tutorial. Christophe shows us how he makes a riverbed look very realistic. The link is at the bottom of this page.
There are a couple of big advantages to using Foam Coat. It takes a much longer period of time to dry which means that you can work on it much longer. It can take up to 24 hours to totally dry while if you use plaster of paris you only have about ten minutes! Also, the foamcoat forms a really durable and hard shell which makes it less delicate than plaster. Plaster of paris forms a nice shell and is pretty durable but foam coat is more so.
About FoamCoat - I will be getting some of this and I will let you know where you can get some. It looks like it is reasonably priced and comes in a variety of quantities ranging from 8 ounces to 5 gallons!
Here are some thoughts and tips from Christophe on working with foam coat:
The the foamcoat is really strong once it's dry. It gives a good hard base to work on. You can drill holes without damaging the terrain. It wil be more difficult to cut into it (haven't tried it yet) but using a sharp cutter could work well. Another advantage of foamcoat is that when you start soaking the tissue in it and putting it on the terrain, the foamcoat in your container starts to thinken slowly. So just adding some more water makes it thinner again and you can keep on working. I think the plaster is more absorbing which could be an advantige in some cases. The wrinkling of the tissue (normal kitchen tissue with a structure of tiny round dents) does work well for some terrains.

To avoid the wrinkling I think it's just a matter of some practice and also putting it on a smooth piece of cardboard (like a road). Because the foamcoat takes time to dry you have enough time to even it up I think. Maybe with a brush. About the foamcoat. It is normally used to cover styrofoam or other foam that people use to make models. This way you can spraypaint the foam without the paint eating into the material and also the foam is less vulnerable to denting. That's why I bought it but I never used it for this because I don't work a lot with styrofoam. I found this product about a year ago with an American manufacturer who had a dealer in Belgium.

Here is the website http://www.rosco.com/US/scenic/foamcoat.asp When I bought it and opened the can I thought it had gone bad, because it was a thick paste with some water on top. I tried to stir it up but it was much too thick to stir. But what you have to do is take some out of the can or bucket and mix it with water until you have the thickness you want. The fact that it sticks to styrofoam, means that you can also use foam to make the base of your diorama. The foamcoat tissue will stick to the foam better than plaster I imagine.
He used standard cardboard framing like I use in my dioramas. You lay out the frame with strips of cardboard to get the 3d terrain shape. Then you coat it with your paper towels soaked in plaster, hydrocal, or in the case of his diorama foam coat.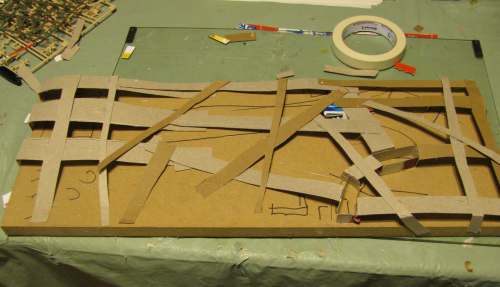 Here are two examples that Christophe has created using the foam coat. He is experimenting with different types of terrain. You cna see that the foam coat allows for some good sculpting of the terrain. and the wrinkling and creasing that you can get with it is particularly well suited for river beds, battlefield terrain and even volcanic lava. You can see this effect better in the pictures below. Also, the terrain shell can be perfectly covered with standard terrain materials like flockage and textures.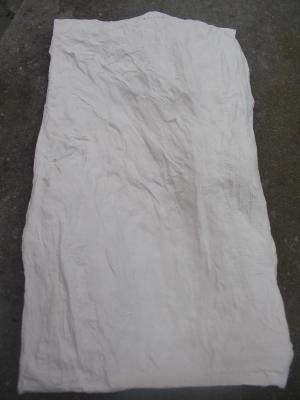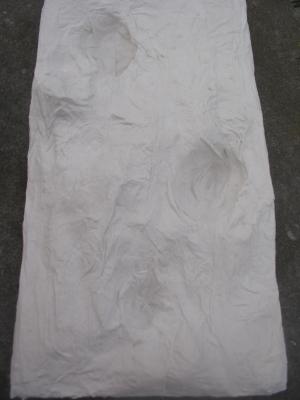 The following pictures shows some of the outstanding effects of using the foam coat. Here we have some of the base painting done and some of the terrain grass materials applied. Notice how the wrinkling effect looks so realistic. This is perfect for battlefield terrain, desert terrain, parched earth and even would be great for volcanic like scenes. This base painting where you apply different colors and shades is very important for diorama making and I have lots of tutorials on how to do this. (Base painting a WW2 diorama) (Base painting a fantasy diorama)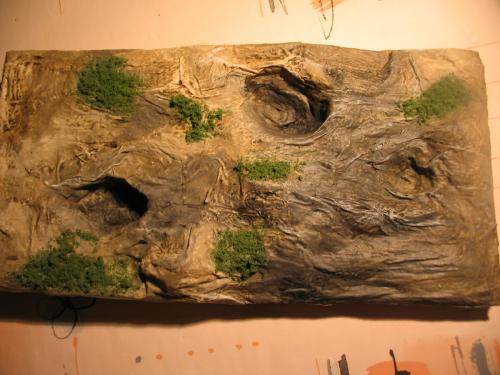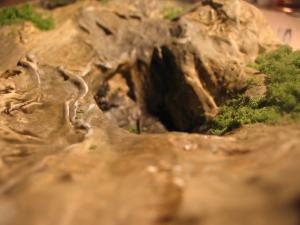 Here is a closeup picture of the above diorama. See how terrific it came out? You can really get some nice effects. This is achieved through three things. First it is the textured way the shell was made, second it is good base painting and third it is the prudent placement of the green textured grass. As far as the grass goes, in this example, less is more!
The picture below is a stunning example of how the creation of the shell can give us some really good effects. It is a riverbed scene and see how we get a running water kind of look. All that remains now is to put in the water.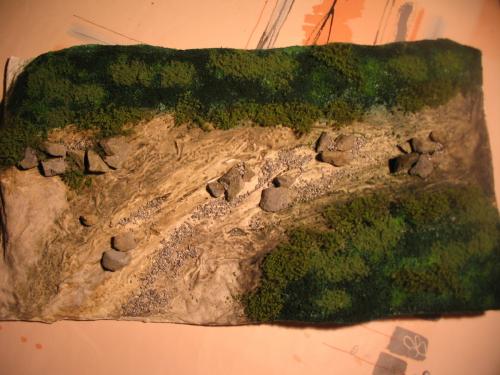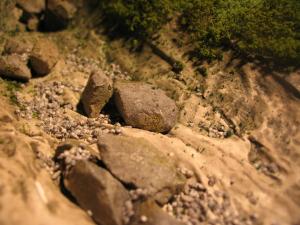 Here is a closeup of the above diorama. You can see that with good placement you can use stones and rocks that you find outside. Add a some pebbles or talus and you have a remarkably realistic scene.

Let's continue on and get a look at the finished diorama In this next part we take a good look at how he added the water to the river bed and how he made the water look extremely realistic.
RESOURCES
---
Here is some more information about Foam Coat : Rosco.com
Another website with foam coat fxsupply.com
I haven't bought anything from either of the above websites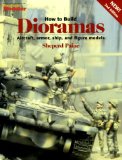 How to Build Dioramas
- Learn everything you need to know about making your dioramas look real! This fantastic revised edition will show you how with new projects, new photos, and expert tips. Includes painting, weathering, and detailing tips for figures, aircraft, vehicles, and more! 290+ photos with color throughout; 41 illus.; softcover
Terrain Modelling (Modelling Masterclass)
- This title helps modellers who wish to display the results of their efforts to the best advantage in a diorama. This book provides detailed information on how to create many different types of terrain; the paints, glues, tools and materials that will be of help to the modeller; and how these can be obtained both in Europe and the USA. Illustrated with some 200 photographs and written by a master of diorama modelling with a lifetime's experience, this book provides the essential and invaluable guide to the materials and techniques needed to create top quality terrain for anywhere from Ancient Rome to the Western Front.
How to Make a Diorama



Dioramas are a great way to express creativity. You work through manys stages of the creative process. You conceptualize then design a scene then you work with the materials to make it a reality.-great tutorial that shows you how to make a diorama from start to finish. It walks you through all the steps and techniques.