A Colonial themed Diorama
This is a wonderful diorama of the colonial period. It shows an extraordinary eye to detail and it was made and submitted by Charles B. My thanks to him for this outstanding contribution to the website. He has also contributed some other amazing dioramas to this website: A Roman Bath Diorama - and a diorama of a ruined roman building
Some of the amazing things about this diorama are the detail of the hand made covered bridge and building. You will be amazed by the attention to detail on these structures. I have some pictures. And, the water effects came out fantastic. Water can be difficult to do. This water is perfect, with a great muddy look.
The figures on the diorama are three colonials and one French Dragoon.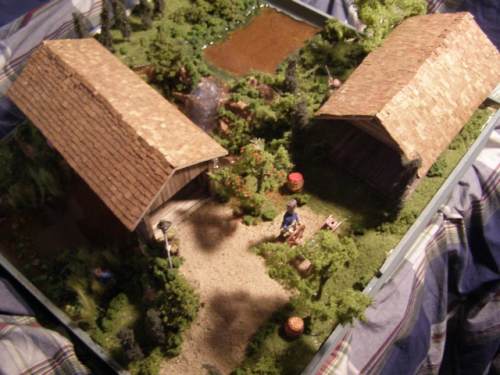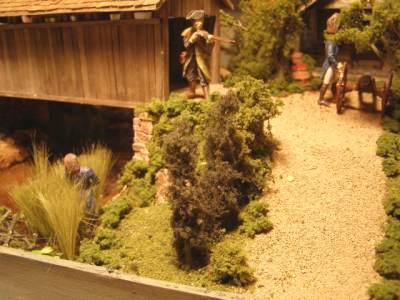 This picture shows you a lot of the unique properties of this diorama. The sand, the brush, the weeds in the water. But it also shows a not so obvious thing that makes dioramas very special. The shape of the land. See how this diorama is not just a flat sheet? It has a beautiful terrain shape including the curves, hills and slope down to the water which the covered bridge spans over.
I have a tutorial that shows you how to make tufts of grass just like these along the river bank.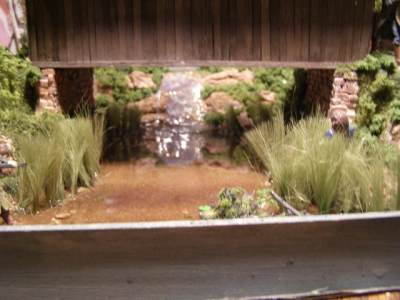 Here is another look at that covered bridge over the waterway. This is just a terrific use of terrain in a diorama. And what about that waterfall?
If you want to make a waterfall in your diorama I have a tutorial right here: How to make a diorama waterfall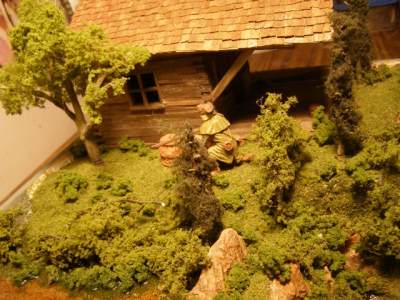 Here is another look that shows you some of the handcrafted work that went into the making of the building.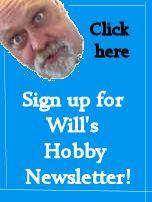 Do you like making projects and a exploring a variety of hobbies?
Sign up for my free newsletter. I give you regular updates on hobbies and projects you can make. it is totally free and I don't share your email with anybody.